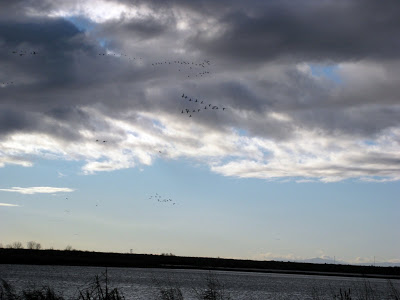 I haven't been doing much knitting during my time off, but I did spend the last couple days birdwatching. I spent the night in
Lodi
, something I have wanted to do for several years, to see the
Sandhill Cranes
that winter there. I'd never seen one before-- they stand three to five feet tall and have a wingspan of up to six feet.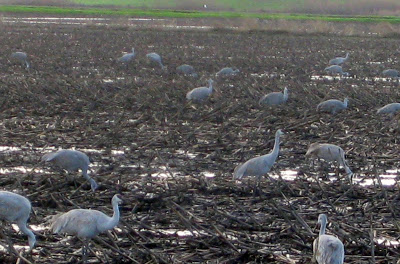 These photos are early morning shots of the birds at the ecological preserve where they roost at night. I actually arrived the previous evening just in time to stand in the rain and watch hundreds of cranes fly in. The flocks are so massive that at first I thought I was seeing an approaching helicopter.
(To see truly amazing pictures of Sandhill Cranes, check out
Adventures in Birdland
.)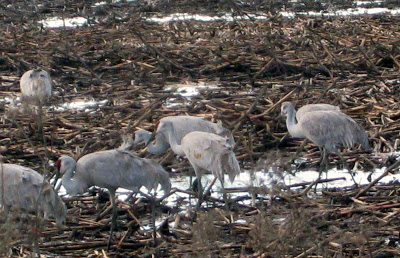 They are quite vocal and make the oddest sound, almost like a purr. It's hard to see in these pics, but they have a patch of bald red skin on top of their head. I mainly took photos from the comfort of my car because it was COLD there, something I don't often experience. I don't knit a lot of warm wool items because they just aren't needed where I live, but in Lodi I was wishing for a thick warm scarf and hat. Brrrrrr.

Fortunately I don't have to return to work until Tuesday, so I have several more days to get out and do more birdwatching. It's a nice way to end the year.

Wishing you a very happy new year.