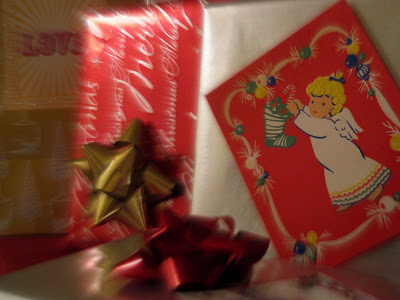 It's a good thing I'm done with all of my gift shopping because I had a small meltdown at the mall yesterday. It happens at least once every holiday season (but usually more).
The stress, the crowds, the running around, the exhaustion. I end up snapping at some poor sales clerk who is probably more frazzled than I am. I apologized to the young woman at LensCrafters who triggered my tantrum yesterday and drove straight home for some much needed quiet time.
Today I'm trying to take it easy. It's relaxing just sitting in the living room with the sliding glass door open, listening to the distinct sound of the hummingbirds in the Eucalyptus trees. They make frequent visits to the feeder I put up a couple weeks ago-- this picture was taken a few minutes ago.
But there remains a gnawing inside of me that wants to go out and run around some more, to spend, spend, spend because the dozens of gifts I already purchased couldn't possibly be good enough.
I'm not going to succumb. Instead I'm going to do the three things that I know will calm me down so I can make wise choices (including acting like a grown up when I have to wait too long in line):
1. Go out for a leisurely lunch.
2. Take a long walk.
3. Get in bed, snuggle up with my two cats, and read a good book.

Have a good weekend, and may you be meltdown-free.