I'm back from the first day of
Stitches West
! My friend Cathy and I spent four hours in the marketplace looking at yarn and patterns and stitch markers and project bags and so much more. It was wonderful and crowded and overwhelming, as it is every year.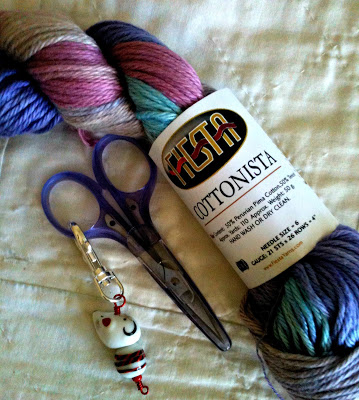 On the drive there, Cathy and I agreed that we didn't want to
blow
spend as much money as we did
last year
, so we devised a plan to help each other out. Whenever she saw me losing my willpower, like when I almost bought twenty blown-glass stitch markers, she sang to me, "
Money, money, money
" from the Abba song of the same name. (Here is
Meryl Streep singing it
in
Mama Mia
!) I did the same for her, and it worked! I only bought one lonely skein of Fiesta Yarn Cottonista, two
Lo-Lo Bars
(gifts for friends) and a pair of scissors with a cute fob. Cathy did even better-- she bought nothing.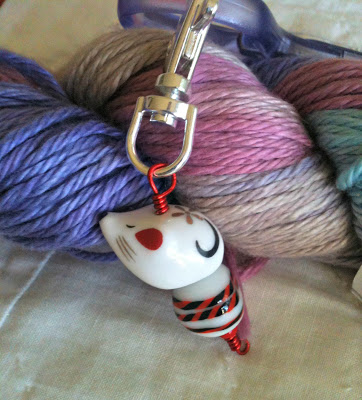 It's a little mouse!
The true test for me will be tomorrow when I go back alone for a morning class. I can't
not
stop in at the marketplace, and those little glass stitch markers might prove to be too cute to pass up without my singing buddy.
Thank you for all the kitty love and support when
Apollo was sick
a few weeks ago. He is doing great now-- eating, drinking, and finally back to wrestling with his brother. It's so good to see him healthy again.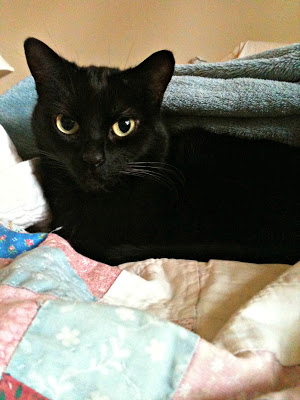 Please don't ever get sick like that again, Apollo.
In addition to attending Stitches and the recovery of my kitty's health, there is one other special event going on this week. I was selected as the
Knitting & Crochet Superstar
on the crafty website Cut Out & Keep, and they are featuring one of my existing patterns every day this week as well as an interview with me. If you have a moment, please check it out! Oh, but I must confess that the photo of me is outdated-- not long after it was taken I started putting on the pounds and stopped letting people take my photo. Anyway, a big thanks to Cat Morley at
Cut Out & Keep
for featuring my blog!