When I started blogging three years ago, the only craft I was involved with was knitting. My plan for this blog was to share simple, original knitting patterns, but it didn't take long before I was inspired by other people's blogs to start making
mixed media collages
,
handmade books
, and
artist trading cards
. It was exciting to learn how to work with new mediums and to express the creative energy that had been bottled up inside of me for so long.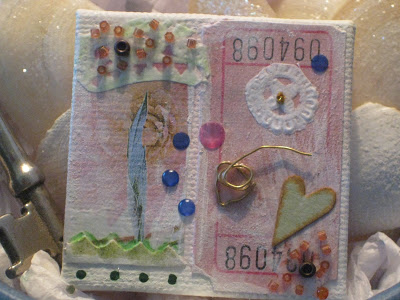 Miniature Mixed Media Collage ~ 2009

And then, about a year and a half ago, I pretty much stopped doing all crafts except knitting. I don't know why. I have drawers and bags and boxes full of supplies, plenty of space and time, but I just stopped. It didn't take long to start believing that I'd forgotten how to make all those things and to lose confidence in my ability to collage and stamp and paint and invent.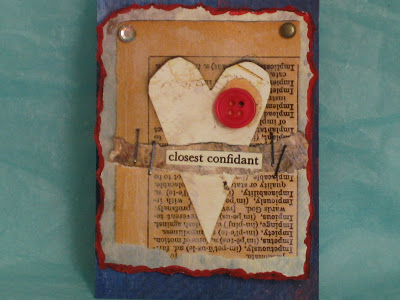 Artist Trading Card ~ 2009

Lately I've missed those crafts. Knitting is still my number one love, but I feel ready to expand my creative world once again. I'm not making any official resolutions this year, but I am hoping to be more open to learning and experimenting and revisiting different types of crafts.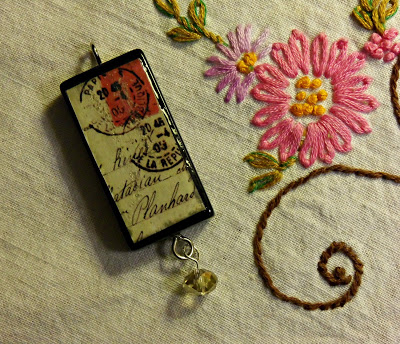 Domino pendant with resin finish ~ 2013
In that spirit, earlier this week I took a class at the
Work of Heart
art studio, which is located a few miles from where I live. I was the only student in the class, which was nice because I'm not very comfortable in group situations. Within an hour the instructor Lexi led me through the steps of making three projects: a domino pendant, greeting card, and embossed travel journal.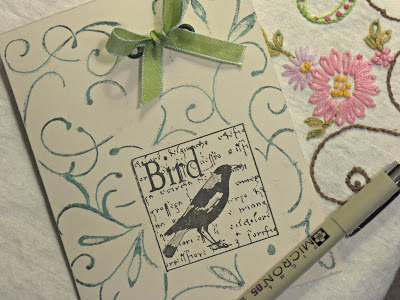 Handmade greeting card ~ 2013
I learned new skills and refreshed old ones, but most importantly, it reminded me how fun it is to just sit and make stuff. Especially stuff you can finish in one sitting.
Hopefully I'll keep my non-resolution and take more classes throughout the year and open up those drawers and bags and boxes of art supplies and put them to use. I recently started using Pinterest and it seems like a good way to find ideas and inspiration ... if I can stop pinning stuff!