When I started this blog almost two years ago, I had a vision, albeit a blurry one, of what it would be about. I wanted to design original knitting patterns, share them on Ravelry and improve my skills by knitting larger and more complex items.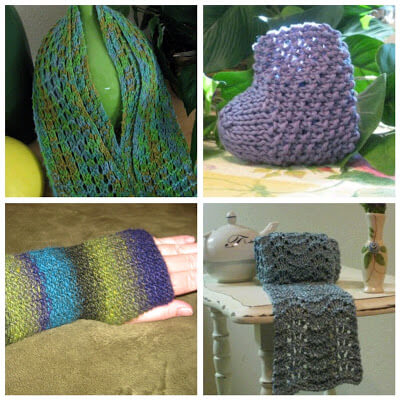 I did end up designing a few things. Nothing terribly complicated, just some
easy scarves
,
bags
,
booties
and
fingerless gloves
. My
mesh bamboo scarf
is the most viewed page on my blog, and with the arrival of cold weather the gloves are getting a little bit of attention. It's gratifying when someone knits one of my patterns and posts the project on Ravelry.
But it's been a while since I designed a pattern. And I've not attempted to knit anything too big or complicated since I started this blog other than a
lace shawl
(which turned out to be rather small and easy). At this point in time, I'm knitting garter stitch scarves.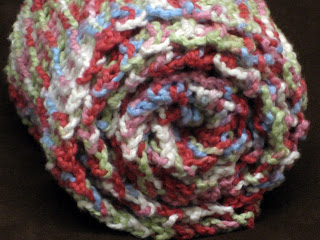 Garter stitch scarves. The kind that are your very first knitting project, the kind that are supposed to get monotonous after you've made one for each member of your family. I've read enough knitting books to understand that garter stitch scarves are kindergarten knitting; they are the finger painting of the fiber world.
But the truth is, I like how they look and enjoy knitting them. I don't have to remember to use my row counter or glance at a pattern every few minutes. It's like being transported back to a simpler time before you knew about tricky techniques like a Turkish cast-on or three-needle bind off, when you had no idea how to use circular needles and didn't care, when terms like K2TOG and YO made your eyes glaze over. In those days, knitting with acrylic yarn was perfectly acceptable and the smallest needle size in your collection was maybe a US 6 (but you never used it).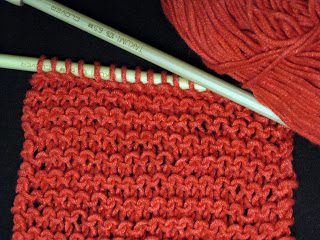 So here I am, finger painting scarves while forgetting how to do a proper wrap and turn. Simply knitting. While I do plan to return to the world of purl stitches, yarn overs and short rows, for now the basic act of creating something with two sticks and some pretty string is enough.