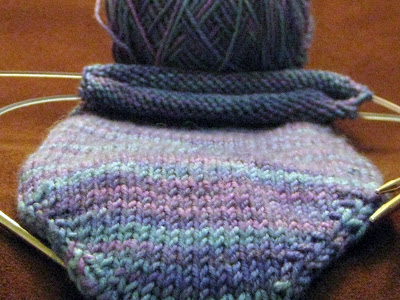 I made quite a bit of progress on my sock over the weekend, which kind of surprised me.

I think I was holding my breath, waiting to discover a dropped stitch, short row mistake, or some other glitch that would give me an excuse to abandon the project in frustration. (See, I really can't knit a sock! So there.)

But it didn't happen. The toe is done. The heel is shaped. The cuff will soon begin.

I don't want to jinx it, but I think might actually complete an entire pair of socks this time. Up until this point I have only knit one ugly orange cotton sock and a half of a pretty bamboo one.

These might be the reasons I am on track to finish this particular pair:

1. I'm using wool yarn. So much easier to work with than cotton or bamboo.

2. The yarn is soft, pretty, and self-striping. Love those stripes.

3. It's the toe-up method rather than cuff-down. I prefer it, maybe because it's the first method I learned.

4. I'm not troubled by the little imperfections here and there. As my wise sock teacher once said, "This is your first pair of socks, not your last." Or in my case, this is my third attempt, not my last.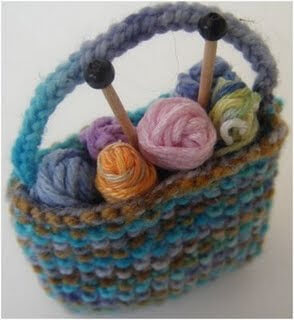 On a different subject, a big thank you to AllFreeKnitting and Totally Tutorials for featuring my pattern for a miniature knitting bag on their website. It's a great holiday project because it can be used as an ornament, to decorate a gift, or even turned in to a brooch. One clever knitter on Ravelry made a smaller version as a key chain.