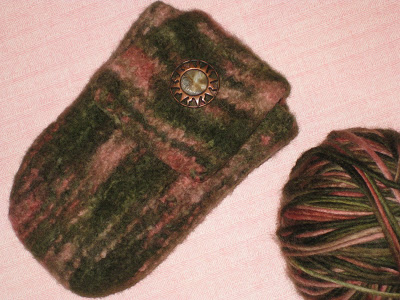 When I bought my digital camera, the clerk at the store tried to sell me a case to go along with it. My eyes lit up when he mentioned it-- something new to knit and felt. I loved that I was able to go home and make my own rather than purchase it in the store, and I loved it even more when I spilled a little water in my purse and the felt case protected my camera by soaking it up.


For this pattern, I used
Malabrigo

Worsted Merino
yarn. It
is my absolute favorite yarn to felt with-- it's soft when you're knitting, and felts up fast and thick in the washing machine. I realize the colors in the variegated yarn that I used aren't the most beautiful, but I found it on sale for 30% off, so I'm willing to live with it.


This is an easy pattern, knit side-to-side rather than lengthwise, but it does involve picking up fourteen stitches. I used to avoid patterns that require picking up stitches because I didn't know how to do it and thought that it sounded hard. It turns out it's easy-

peasy

and kind of fun. Here is a tutorial provided by

Knitty

.


The finished case is approximately 4" wide at the top, 3" wide at the bottom, and 5" long. If you want to experiment, this post includes a picture of the case with vertical stripes.


Supplies:
-Worsted weight wool yarn that can be felted
-Button, thread, and sewing needle
-Tapestry needle for seaming the sides

To make the digital camera case:

1) Cast on 50 stitches.


2) Knit 26 rows in garter stitch and then bind off loosely.


3) Pick up 14 stitches centered along one of the short edges to begin forming the flap.


4) Starting with a knit row, work 13 rows in stockinette, and then bind off. This is the flap.


5) Use a tapestry needle to seam up the sides. The nice thing about felting is that your seams don't have to perfect; the felting hides little imperfections.


6) Felt the case. I felted mine by placing it in a pillow case and washing it in hot water along with a towel for a cycle that lasted approximately 30 minutes. It came out of the washer perfectly felted, but please keep in mind that felting is unscientific and your case may require more or less time to get to the correct size. Check it occasionally during the cycle.


7) After the case has dried, sew the button on the outside of the case under the flap.


8) Use a craft blade to slice the buttonhole in the correct place on the flap.


Use and enjoy!