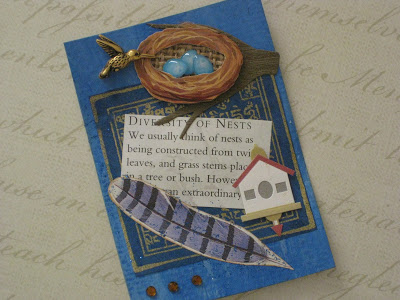 The theme for this month's ATC swap was bird nest. I wanted to do something special, like create tiny nests out of some sort of material and glue them to the cards, but ended up buying these bird nest stickers at Michael's instead. Sometimes it's okay to just go the easy route. I had a lot of fun with this theme.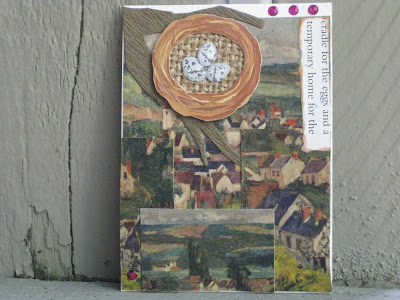 The hummingbird card doesn't have an image of a nest on it, but it does include the word "nest," so that counts, right? I wanted to use these rub-ons because I feel such a kinship with hummingbirds. They reside year-round in my neck of the woods, and I live a few miles from Mount Umunhum, an Ohlone Indian word for "resting place of the hummingbird." I see them as symbols of magic and miracles.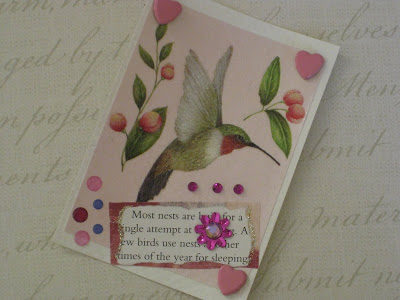 This next card is for a cat-themed swap.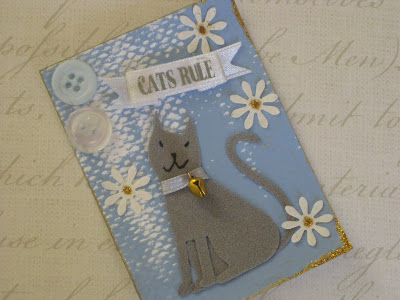 * * *


My friend Felicity over at Joshy and Belle is having her first giveaway for her 100th post. She is giving away the loveliest items! Please stop by and tell her I said hello.


* * *


My little sister is getting married a week from Saturday, so this weekend I plan to get a pedicure, trim my hair, and figure out what I'm going to wear. I'm also looking forward to reading the last book available of the Sookie Stackhouse novels. That series has been so good!
What are your weekend plans?
* * *


I just really need to say something about this week. It's been unexpectedly combative, and I've had to stand up for myself over and over, something I'm still learning how to do and not entirely comfortable with. This evening I found a quote I jotted down a few years ago that says it all.
"There will invariably be people who don't accept you.
And in that case, you must be your own bad ass self, without apology."
-Katie Goodman


I hope you have a wonderful weekend.

Stacy
xxoo