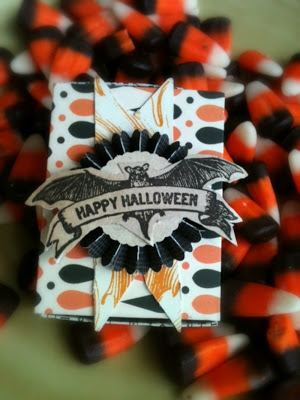 About a year ago I lost my creative mojo for most of the crafts I used to love, like artist trading cards and mixed media collage. My poor craft supplies have sat abandoned in the closet, wondering if I was ever going to play with them again. I'm happy to report (to both you and my craft supplies) that my desire for crafting has been rekindled.
I'm not sure exactly how it happened-- boredom, loneliness, of just a random surge of creative energy, but last week I found myself wanting to make stuff again, stuff that doesn't involve yarn and knitting needles, and I wanted to do it with other people rather than alone at my table. Fortunately there is a
creative arts lounge
not too far from home, so I took a class on how to make
Halloween treat boxes
.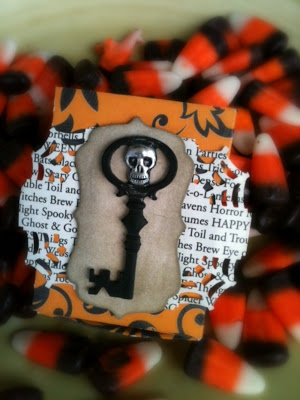 It turned out I was the only one in the class, which was okay because I'm pretty shy in large groups. The instructor,
Alexis
, was super nice with lots of patience. The two of us sat at a big table and she taught me how to do die cuts, fold the paper in to boxes, make rosettes, and other fun little techniques I enjoyed learning.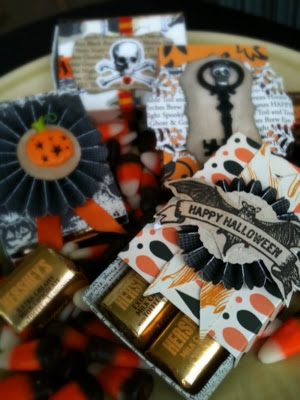 The boxes are the perfect size for four miniature Hershey bars.
On a different subject, these photos were taken with my new iPhone. When I tried to use my trusty pink digital camera this morning, I discovered it was no longer working. I'm quite surprised at how well the photos turned out using the iPhone, although I did touch them up in
Picnik
.
I don't know what is going on. In the last month I have broken so many items by spilling hot coffee or dropping or stepping on them. So far the list includes my netbook, Kindle, eye glasses, cell phone, and now my camera.
I will have to be extra careful with the iPhone until the clumsy spell is broken.