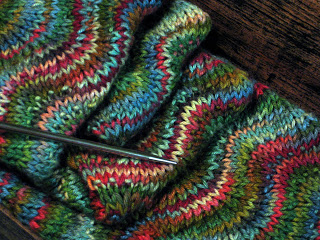 I'm getting close to finishing the
Apple Tree scarf
-- finally! It has taken an unbelievably long time to knit and I'm not sure why. It's only a four row repeat on size six needles. But I'm happy with how it looks. Soon it will be packed up and mailed to Jen over at
Miss Punkie Pie
for a little swap we are doing.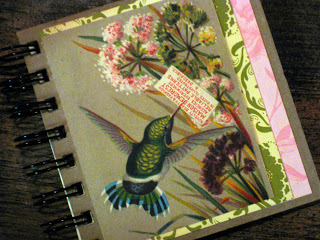 I'm working on this tiny book-- not sure what to call it, a collage or mixed media book? I created the cover and have the words ready to go, just need to figure out how I want to decorate the pages.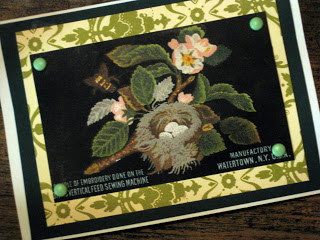 In the middle of making my bird book, I came across this sewing machine trading card from the olden days and had to stop what I was doing and make a note card.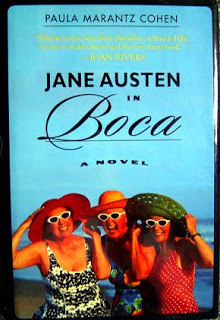 I'm
still
reading Pride & Prejudice spin-offs and sequels. Every couple weeks I take a stack of books to the used book store and trade them in for new ones. This evening I finished
Jane Austen in Boca
and got such a kick out of it. Imagine Pride & Prejudice set in a retirement community in Boca Raton, Florida. It was smart and funny.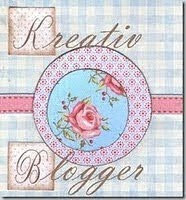 Thank you to Cory at
Pink Dogwood Blossom
and Suz at
Begin Again
for the Kreativ Blogger Award. I appreciate it! Some day I will get around to sharing ten interesting things about myself. Lately I haven't been feeling terribly interesting.
My sister Hilary and I went to see Eclipse on opening night last week. I liked it, but thought New Moon was better. If you are a knitter and a Twilight fan, check out this funny, funny
post
. It will give you a good laugh, especially if you enjoy knitting with Malabrigo.