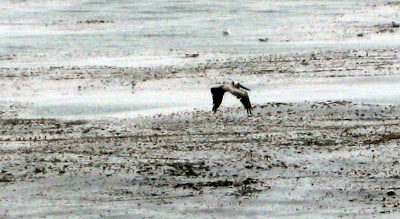 I've mentioned a few times that I love the beach and often want to go on the weekends, but can't seem to get moving early enough to avoid the traffic that can back up for miles. Well, this morning I managed to get there, thanks to a certain cat named Charlie who decided I'd slept in long enough at 7:30am.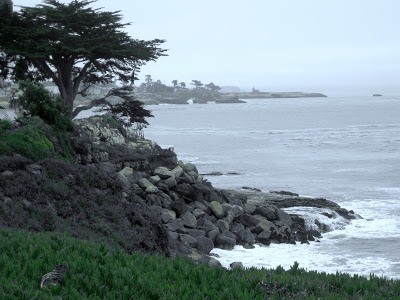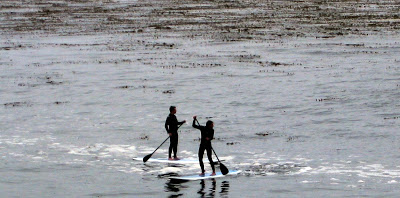 It was a cool, beautiful morning. There were lots of crashing waves, pelicans, and a few paddle boarders playing in the water. My walk took about an hour, and while I enjoyed it very much, I was a bit preoccupied with a craving for something sweet.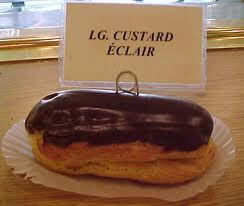 So, I popped in at a French bakery for coffee and a pastry. The line was out the door, but it was worth the wait because I had the BEST chocolate eclair that I have ever tasted. Oh. My. Goodness. I think I may have found my motivation for getting up early and going to the beach on the weekends.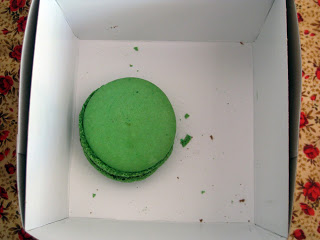 I also tried macarons for the first time. I've wanted to taste them ever since Anna wrote about them on her
blog
. The chocolate one was okay, but a bit too sweet. I saved the pistachio macaron for later because let's face it, a green pastry is not terribly appetizing, but have since tasted it and found it to be YUM.
As if that weren't enough, next door to the French bakery is a yarn shop!! Within minutes of entering the place I found six skeins of yarn I wanted to buy, but somehow managed to walk out empty-handed. I have so much yarn in my stash that it just isn't okay to buy more right now. But I thought about that yarn all the way home, and if there wasn't so much traffic in the opposite direction I might have turned around, gone back there and bought it.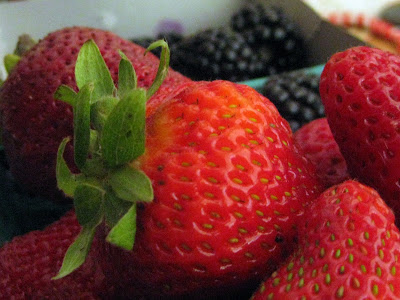 Back at home, I stopped by my neighborhood farmer's market for fresh fruit and veggies. The strawberries are so good this year. I'm not sure why they taste better from the farmer's market than the grocery store, but they really do.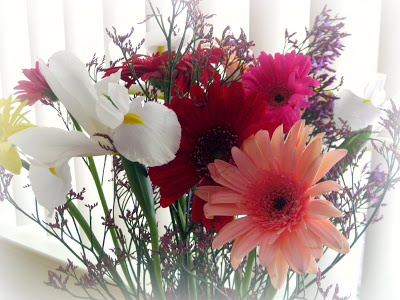 I also treated myself to a bouquet of flowers from the farmer's market, which Charlie seems to think are for him from the way he keeps sniffing and nibbling at them. Oh well, I guess he does deserve a thank you gift for getting me up and out the door so early.
Hope you enjoy what is left of your Sunday.