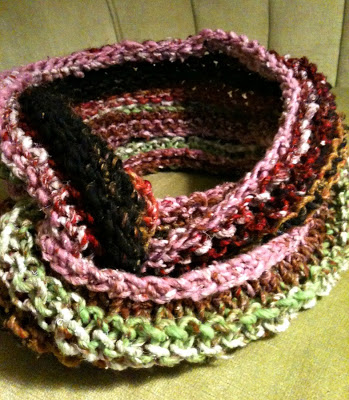 I had to take a break from the never ending lap blanket that I've been working on and knit something fun and easy and fast on big needles. I used one skein of chunky Noro Furisode, an online impulse buy from a while back, to make a cowl based on this super simple Ravelry
pattern
.
Update 12/13
: If you are interested in purchasing Furisode, it is on sale right now at
Webs
for $11.95 per skein, marked down from $17.95.
It was good to complete a project from start to finish in one weekend. It helped me remember how fun knitting can be when you aren't desperately trying to get a semi-big project done by Christmas day. Last week I got so tired of that
blanket
that I started daydreaming about paying someone to finish it.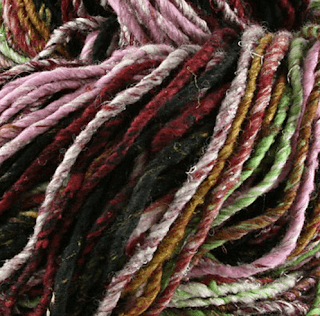 That was my first time using Furisode, a blend of silk and cotton with a little wool thrown in, and it felt so wonderful in my hands that I think I will intentionally buy a few more skeins. I would love to knit a few more of those cowls and give them away as gifts.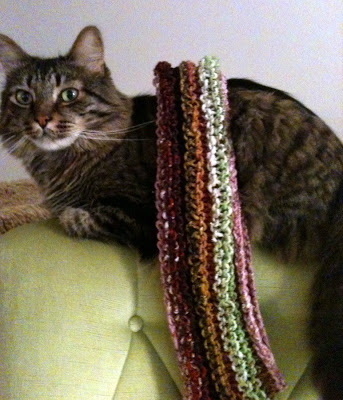 Charlie was born to be a cat model-- when asked nicely he will hold perfectly still and look at the camera. Now if I could only get him to wear my knits instead of only allowing me to drape them over him.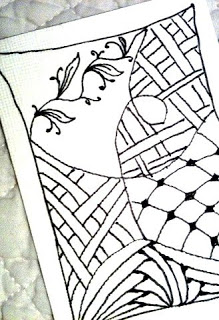 Have you heard of
Zentangle
? Apparently it has been around for years, but I just heard about it recently. Tonight I spent some time on YouTube watching instructional videos and then gave it a shot (above). The first few attempts were not great, but I'm inspired by some of the
gorgeous patterns
I've seen online and want to keep at it. Plus I love that feeling of going in to a sort of crafty trance and creating from that place.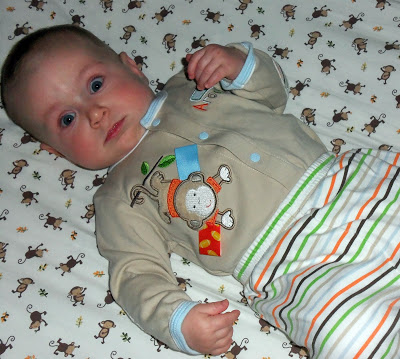 My niece Lily is six months old now. She is sitting up by herself and starting to eat a little bit of fruit and veggies. Here is the little monkey at bedtime in her crib, not sleepy at all.