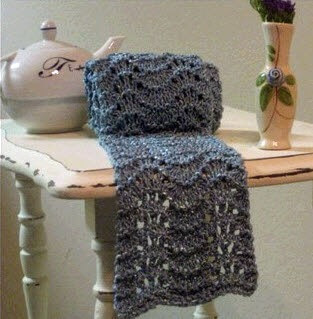 Today was a cozy, rainy day, and I spent it curled up on the couch with a cat in my lap, knitting and watching movies. This scarf was the perfect project for today-- mindless enough that I could keep an eye on my movies, but not mindless enough to be boring.



.

It's knit with Berroco Bonsai, which is 97% bamboo and 3% nylon. It has a bit of a shine to it and sort of glistens. The pattern is a classic called feather and fan.

mmmmmmmmmmmmmmmmmm mmmmmmmmmmmmm mmmmmmm mmmmm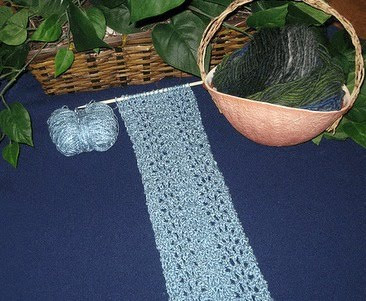 Abbreviations:

K1: knit one stitch

K2TOG: knit two stitches together

YO: yarn over

Supplies:
Berroco Bonsai yarn (three skeins, 77 yards each) or any worsted yarn of your choice

Size US 7 straight needles

To knit the scarf:

Cast on 24 stitches.

Knit three rows in garter stitch.
Begin the four-row pattern repeat:

Row 1: Knit

Row 2: Purl

Row 3: *K2TOG twice, (YO, K1) four times, K2TOG twice*, repeat the entire sequence across the row until you get to the end

Row 4: Knit

Repeat the four-row repeat until your scarf reaches the desired length.

Knit three rows in garter stitch.

Bind off.