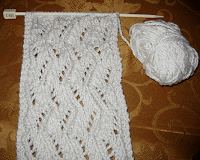 I'm currently working on the White Lightening scarf from Yarn Forward magazine (January 2009). I'm knitting it in Blue Sky Alpacas Dyed Cotton, which is heavier than the pattern calls for, but I wanted to use a soft,
substantive
yarn.
The pattern forms a lacy zigzag, and it's a bit of a challenge because I have to actually pay attention to my knitting rather than the television. I keep
zagging
when I should be
zigging
, but I'm determined to finish it.