Only three more days until
Stitches
! I ran out to
Green Planet Yarn
to buy supplies for my knitting classes since I probably won't have another chance between now and Friday.

For the scarf we're making in the
short row class
, I bought this gorgeous
Cotton Ribbon
from
Mango Moon Yarns
. They support the Nepalese Women Empowerment Group, an organization that rescues women from abusive situations and teaches them to use their knitting and spinning skills to rebuild their lives. Oh, that makes my heart sing.

The color I bought is called Earth: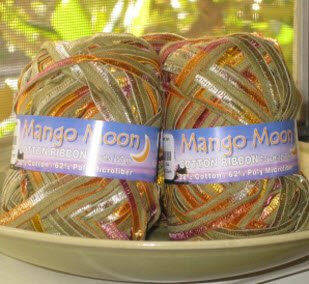 For the Ripple Effect class , I bought Sublime Organic Merino Wool . The instructor recommends a high quality wool because it makes learning new techniques easier and more enjoyable, and this should do the trick. I rarely knit with wool because I'm hypersensitive to it, but this yarn feels extremely soft. I doubt I could wear it, but I think I can comfortably knit with it for a few hours.

The tabby seems to approve.