I decided to create an art journal and fill it with these small collages. I like the process of intuitively selecting collage elements and arranging them on the page, not quite knowing what I'm doing or how it will turn out. And I especially like that I can finish it in an evening.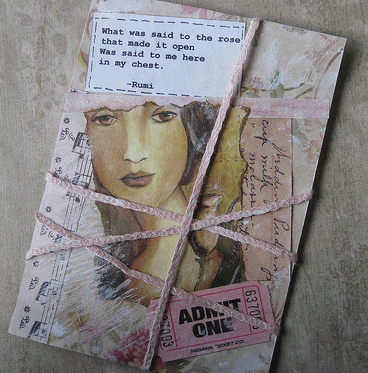 The picture of the woman in the collage is the work of
DJ

Pettitt
. She held a raffle on her blog last year, giving away small packets of images of her work, and I was one of the lucky winners.
I've been experimenting with
gesso
and gel medium for texture, and I think I'm getting the hang of it. First I coated the collage with gel medium (not sure why), let it dry, and then lightly finger painted and dry brushed the
gesso
. When the
gesso
was dry I colored some of it with a bronze colored pencil. Then I gave the collage a light, uneven coating of
Modge
Podge
matte to add a bit more texture and seal it.