I love the idea of creating gifts that combine handmade items with non-handmade products. While browsing in a secondhand store earlier this summer I came up with an idea for a Winnie the Pooh gift set for a baby shower or toddler birthday.
My local yarn shop, Green Planet Yarn, had the perfect Pooh Bear colored yarn, so I knit up a couple wash cloths in a feather and fan pattern. They are cotton and very soft.
A vintage looking plate, candy tin and story book completed the gift set.
I didn't have anyone in mind when I put it together, but I heard a couple days ago that a woman in my book club just had a baby. It's nice having ready-made gifts on hand for these occasions, although I wonder how appropriate it is to give items purchased secondhand. I'll have to think about that one.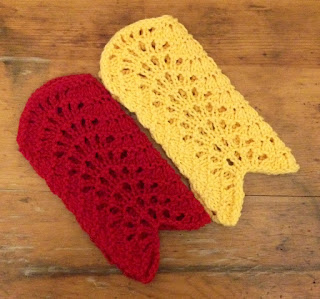 I love my wash cloths