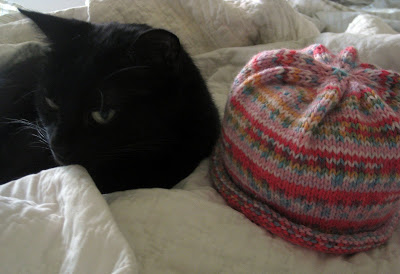 This is my second attempt at knitting a hat in the round and it turned out quite well. Instead of struggling with my arch enemy, DPNs, I used my lovely Harmony circular needles and only switched to the [stupid] DPNs when I absolutely had to.
Inspired by this KnitPicks video,
Learn to Speed Knit!
, I used the continental style and completed it faster than I would have using my standard slowpokey style. The tension is even, too, which is nice for a change.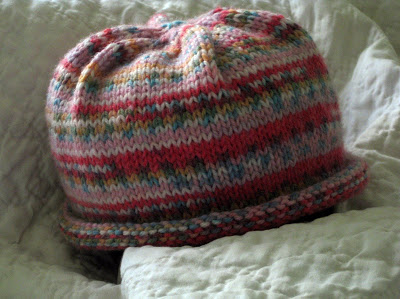 I love the Fair Isle effect of the
Snuggly Baby Crofter
yarn and look forward to knitting more projects with it.
This hat pattern is based on another KnitPicks video,
How to Knit a Hat
. I'm just getting into knitting videos and have been surprised at how helpful they are.
Hope you are enjoying the change of seasons. It's beautiful here in Northern California with the first touch of autumn in the air.