Thank you everyone for your encouragement after I shared my knitting failure. I took your advice and got back on the horse this weekend, making this super simple dish scrubby/face cloth/wash cloth/whatever. It felt good to just knit a little something without caring about how it turned out.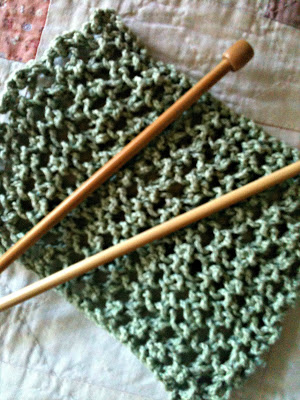 I've been on a reading binge the last few weeks. Are you familiar with Susan Ariel Rainbow Kennedy, also known as SARK? She is a funny, endearing, inspiring artist who has written many wonderful books. I recently read her last two books,
Juicy Pens, Thirsty Paper
and
Glad No Matter What
. They are completely handwritten in bright colors.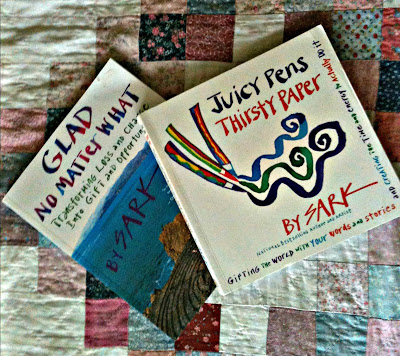 If you are a writer in need of inspiration and would like to join a supportive online community, SARK offers the Write it Now (WINS) program. There are tele-classes, interviews with writers and publishers, a forum for sharing and asking for support, and more. To learn more, visit
PlanetSark
or sign up for the
free live phone call
with SARK this Thursday. The next session starts in July.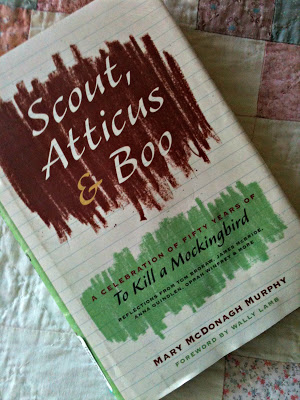 Another terrific book I've been reading is
Scout, Atticus & Boo
, personal essays from a variety of people such as Oprah, Wally Lamb, and Tom Brokaw, about the impact the book
To Kill a Mockingbird
had on them. Wow is it good. If you are a fan of
Mockingbird
, I recommend this book.
There are more books, but I will save them for next time. I also have some knitting projects in mind to start pretty soon, so hopefully I will have something knitting-related to share in the coming weeks.
What are you reading?