There hasn't been much knitting going on around here, so I thought I would share my last completed project (well, semi-completed). It was a failure.
Do you remember the
lace shrug
I raced to finish before Lily's first birthday?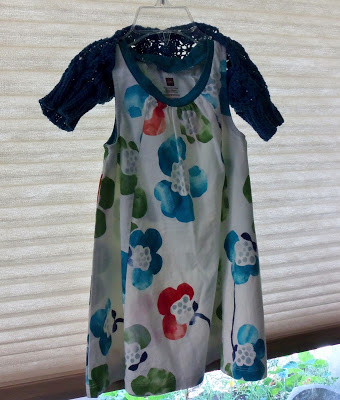 I knit it to go with this dress that I bought her online from Nordstrom.com. It was touch and go for a while, but I managed to sort of finish it in time for her birthday party. It's supposed to have a ribbed neckline, but I left it off.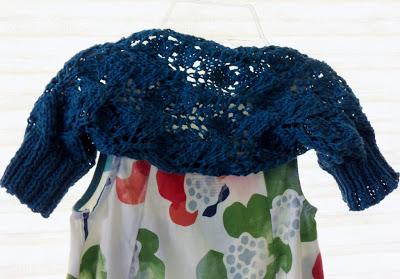 Here's a shot of the back. It's pretty, but I have to admit I am not a fan of shrugs. They seem a bit silly. I considered knitting a cardigan, but decided a shrug would be faster and easier to complete.
The dress was a little big, and the shrug was waaaaaaaay too small. There was no way to get both of her arms in the sleeves. I'm sure the problem was me and not the pattern.
I haven't felt like knitting very much since the shrug fail, but I'm hoping that is going to change. Today I listened to a 2010 interview with knitting designer Nicky Epstein that inspired me. She is funny and down-to-earth and has great stories to tell.
If you would like to listen to the interview, you can find the free podcast on the
CRAFTCAST
website and on iTunes. If you want to download it from iTunes, search for "Craftcast" and look for podcast #34.