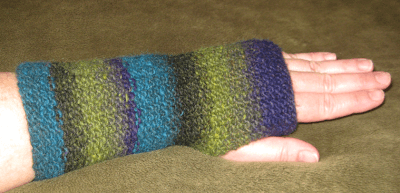 These fingerless gloves are knit in a square shape and then seamed up one side, leaving a hole for the thumb. The pattern is suitable for beginners and the gloves are a medium adult size.

I discovered this stitch by accident several years ago when I cast on the wrong number of stitches for a two-by-two rib. I'm sure it has a name, but I haven't been able to find it. It's a reversible stitch that creates a stretchy fabric and looks best when knit with small needles.
Measurements:


9 inches long


3.5 - 4 inches wide (gloves are narrower around the fingers)


Supplies:


Two skeins Noro Cash Island (Aran weight, 60% wool, 30% cashmere, 10% nylon)


Size US 6 (4 mm) straight needles


Tapestry needle for seam


Abbreviations:


K2TOG: Knit two stitches together


To knit the fingerless gloves:


Cast on 42 stitches.


*K2, P2*, repeat from *. Continue this repeat until the piece is 2.5 inches long.


Decrease two stitches: K2TOG, *P2, K2* to last two stitches, K2TOG. (40 stitches)


K1*P2,K2* to last stitch, K1. Repeat until the entire piece is 9 inches long.


Bind off.


Use mattress stitch to seam the side starting with the wider edge where you cast on. Leave a 1.5 inch gap in the seam for the thumb approximately 2 inches from the top (the narrower edge where you did the bind off).


Make a second one using the same pattern.

Here is an example of the fingerless glove using the same pattern and needle size, but with alpaca yarn.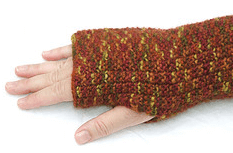 Please feel free to contact me with any questions about this pattern.