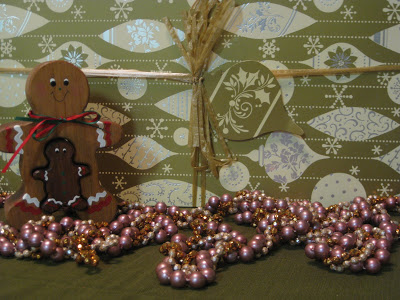 How are you doing with your gift shopping? I'm doing most of mine online this year to avoid the crowds. I only have a few more gifts left to buy on my list, but I'll probably end up doing lots of last minute impulse shopping. It always happens. I start out with a list of gifts for everyone, but as the holiday gets closer I start second-guessing my purchases and feeling like whatever I have for them isn't enough, so I run out and buy a bunch more. Do you do that, too?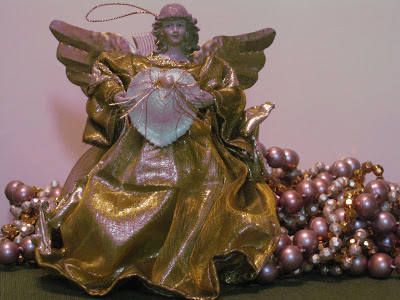 I started rummaging through my Christmas decorations this evening. I haven't had a tree since my cats came to live with me a few years ago because I'm afraid of what they'll do to it while I'm at work. They love to take the knick knacks off my dresser and scatter them around the house. I can just imagine what they'd do with little hanging ornaments. The angel in the picture was given to me by Dogwood many years ago.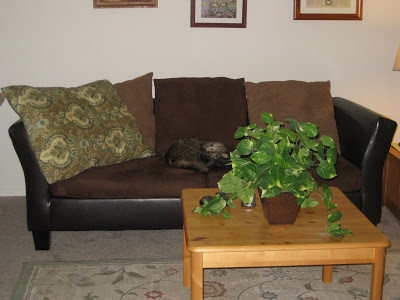 My neighbors are moving to Spain and need to sell all of their furniture, so I bought this couch for a bargain price. My old couch is a tired futon that the cats use as a scratching post. Now I have both couches in the living room and I like how it looks and feels-- nice and cozy. The room was kind of empty before the second couch came to live with us.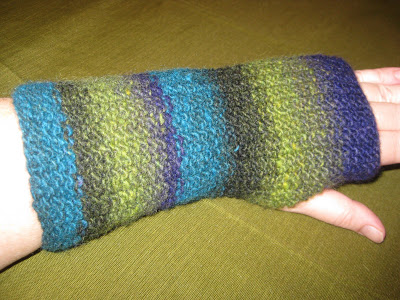 I finished knitting one of my fingerless gloves and will post the pattern in a few days. The first time I knit these, several years ago, I tried to do them in a two-by-two rib, but I cast on the wrong number of stitches and ended up with this funky looking ribby stitch. As it turned out, I like how it looks and have been knitting them like that ever since.