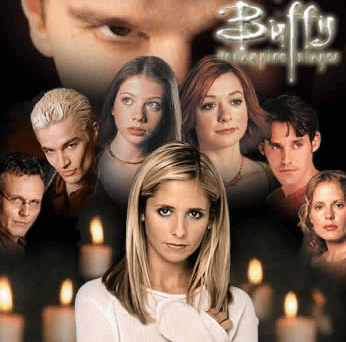 Yesterday I watched the last episode of the final season of Buffy the Vampire Slayer. Now I can have a life again. I watched the entire series from start to finish on DVD over the course of about five weeks and became addicted. I know that vampires are trendy right now, and usually I avoid trends like the plague, but I've gotten totally sucked in (pun semi-intended). Now I'm moving on to the spin-off series, Angel.
* * *
Aren't my little boys cute? Sweet? Not so much. Yesterday they got in a squabble over the heating pad. Apollo was snoozing on it, and Charlie approached him pretending to be friendly and kissy, and then started biting and bullying him until Apollo got mad and abandoned it. There was hissing and scary faces involved. Time to buy a second heating pad, I think.
* * *
Lately I've been finding new books to read by browsing the new fiction section at my local library. It's a good way to discover authors that I probably wouldn't stumble across otherwise. The last book I read, Moonlight in Odessa, is about a young woman who lives in Odessa, Ukraine. She's educated as an engineer but can only find work as a secretary, and longs to move to San Francisco. Halfway through the book she is faced with the choice of a romance with a handsome mobster or becoming a mail order bride to fulfill her dream of moving to the States. It was interesting reading a novel set in the Ukraine, a place I know little about, and the story is quirky in an appealing way. It kept me up late many nights (when I wasn't watching Buffy).

* * *
I can't believe Christmas is next week! Mostly I'm excited because I'm taking time off work between Christmas Eve and New Year's day. No big plans, but it will be nice to be home.

* * *
One of my favorite artists, DJ Pettitt, is offering a digital editing online class called Memories & Manipulations. For more information, check out the class page on her
website.