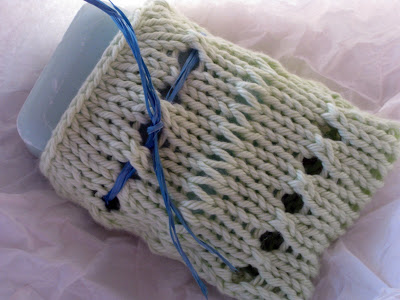 My friend Sheila sent me this fun, quickie pattern for a soap bag. Her niece makes handmade soap and needed a way to enhance her sales, so Sheila designed the sack for her.
"The nice thing about the sack," says Sheila, "is if you use a wash cloth or one of those net scrubbies when you shower, you can take the soap sack right in to the shower with you. For children or elderly who have a hard time hanging on to that slippery bar of soap, the sack keeps the soap from slipping out of your fingers. I love the gentle exfoliating as well."
I knit Sheila's soap bag last weekend and enjoyed the combination of stockinette, YO's, and drop stitches. Plus I was able to finish the bag in under two hours. The soap I used is
E. Barrett & Company French Soap
in Ocean and it smells heavenly.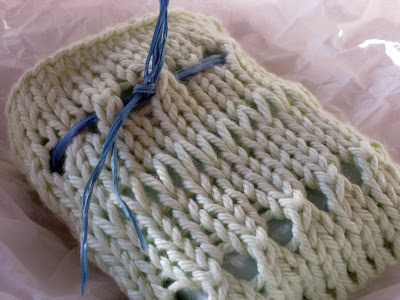 Supplies:

25 yards worsted weight 100% cotton
Size US 7 knitting needles
Ribbon, raffia or yarn for use as a drawstring
To knit the soap sack:
Cast on 15 stitches.
Rows 1 - 4: Knit in stockinette.
Row 5: *K2TOG, YO* ending with a YO and then knit the last stitch.
Row 6: Purl
Rows 7 - 10: Knit in stockinette.
Row 11: Knit across row, wrapping each stitch twice around the needle when forming the stitch.
Row 12: Purl, dropping each stitch.
Repeat these 12 rows two more times.
Knit four rows stockinette.
Knit one row *K2TOG, YO* ending with a YO and then knit the last stitch.
Starting with a purl row, knit four rows stockinette.
Bind off. You will have a total of four YO rows and three drop stitch rows. The third drop stitch row is the bottom of the bag.
Seam sides of bag using mattress stitch being careful to line up the YO rows and the drop stitch rows.
Weave a piece of ribbon, raffia or yarn through the top row of YO's, insert soap and tie the drawstring.
* * *
If there are any errors in this pattern they are mine, so feel free to let me know in the comments or at
stacy@goldenbirdknits.com
and I will make corrections.
If you would like to talk to Sheila, the designer of the pattern, please contact her at
kayteetoo@hotmail.com
.