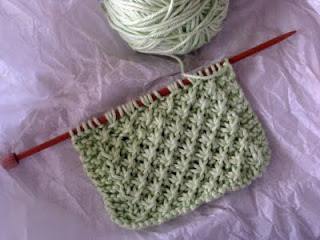 It's hot, hot, hot here this weekend. Too hot to venture outside, which has been sort of nice because it gives me time to knit and read and generally hang out at home. I'm working on several knitting projects, and one of my favorites is this little daisy stitch face cloth.
I fell in love with this stitch when I first started knitting years ago but didn't quite have the skills to manage it. When I ran across it in my Vogue Stitchionary yesterday I felt my heart skip a beat and decided to try it. It involves purling three stitches together twice, which is fairly easy as long as you don't knit too tightly.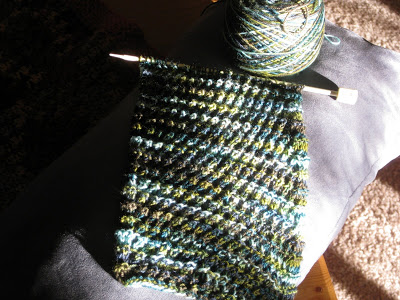 I'm also working on a meshy scarf in delicious
Hazel Knits
sock yarn.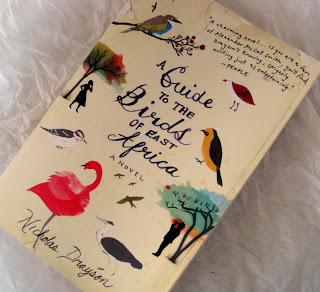 It's been far too long since I've read a real book (as opposed to fake books on Kindle). I picked up the novel
A Guide to the Birds of East Africa
a while back at Anthropologie of all places and finally started reading it this weekend. The story is adorable.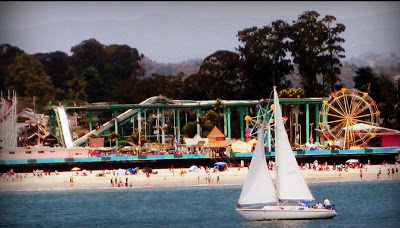 I've been craving the ocean and really wanted to go to the beach this weekend. However, between the heat and the holiday crowds, there is big potential for nightmare traffic jams so I've been staying away. I may get there early tomorrow since it's my last chance before returning to work. This photo is the Santa Cruz Boardwalk from my day trip last weekend. Just can't get enough of the California coast this summer.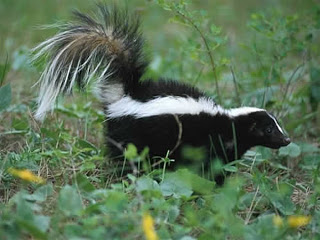 Before I moved to my current place, I never saw a live skunk. Now I am seeing them almost every evening, mainly eating the cat food someone leaves out for strays (cats, not skunks). I love wildlife, even the smelly kind, so it's been fun watching them amble about the creekside trails. Two days ago I actually startled one (startled myself pretty good, too), and it scurried off without spraying me, thank goodness. This photo isn't one of my skunks, but as far as I can tell they all look the same. Cute.
Hope you are enjoying the weekend in your little corner of the world, too. If you are in the states, happy Independence Day!