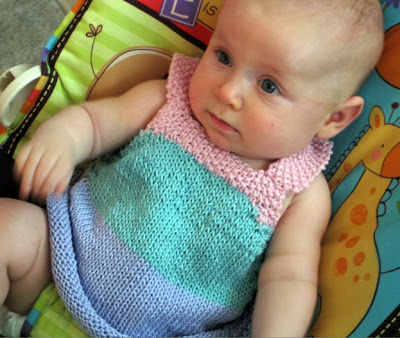 Remember this jumper from my last
post
? The size was supposed to be for a one year old, but it turns out it fits three month old Lily now. In fact, it could be a couple inches longer.
My friend
Rachel
left a comment on that last post saying that a "one year old size" isn't really meant to fit a one year old baby. Sure enough she was right.
It was hot out last Sunday when this pic was taken, so Lily is wearing it as a summer dress.
Isn't she the most beautiful baby in the whole wide world?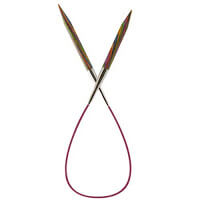 I wanted to mention I've fallen in love with
Knit Picks Harmony Wood Circular Needles
. My local yarn store just started carrying them, so I took them for a test drive. Oh my. Not only are they cool-looking with waves of color, they are lightweight, sharp, and seamless.
I am really enjoying knitting in the round these days.