I've been thinking about creating a blog for a while, and finally decided to do it so I can link to Ravelry and share my knitting patterns.
Me? I'm a birdwatcher, an animal lover, and a tree hugger. I read a lot, too. One of my all-time favorite books is
Knitting Heaven & Earth by Susan Gordon Lydon
. I credit that book for making me fall in love with knitting.
I live with two rescued cats who let me knit in the evening after they've been fed, entertained, and cuddled. I'm still trying to figure out who rescued who.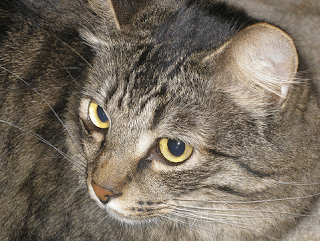 I tend to knit little things because I lose interest quickly, plus I like how it feels to finish a project. I plan to start attempting more complicated projects.
My Ravelry name is goldenbird. The name comes from a dream I had in which tiny golden birds flew out of my knitting needles.