Last year,
Cory
and I decided to do a collaborative art project. We each painted a canvas and then traded with the intent of finishing each other's work and exchanging them again. I, um, had a little trouble.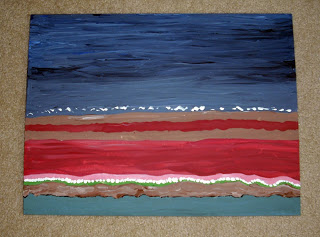 This is the original canvas that Cory painted. I started by adding words with a black pen. That didn't look great, so I covered up the words with splotches of white paint. That made it look even worse, so I layered thin pieces of tissue paper on it. With each attempt to fix it, the piece looked more and more awful. Frustrated and unsure what to do, I considered calling Cory and telling her I just couldn't do it.
I ended up hanging in there and eventually it started to take shape. I used gel medium to attach small pieces of paper layered with dried leaves and flowers, and then added two flowers using the handmade paper I made at Cory's house in Grass Valley last summer. Before we exchanged our artwork I sent her an email explaining that I messed up her canvas so badly that it lost the original look. She was gracious about it, but I felt really bad.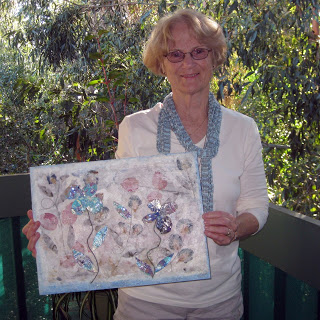 Cory assured me she likes it and posed for a picture on my patio. Check out her blog,
Pink Dogwood Blossom
, to see the gorgeous collage she made for me.