Halloween is over, but I'm still going batty. As most of you know, I love all types of wildlife. I've been hoping to catch glimpses of critters around my new place because it's so woodsy, but I didn't expect to see bats! They live in the trees that grow along the creek and emerge at dusk. I've been a bat fan for many years, so I'm loving it! I read today that their presence is a sign of a healthy eco-system.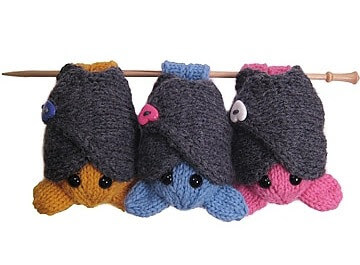 These bats are going straight to the top of my knitting queue. The
Boo Pattern
is available from Mochimochi Land (and the picture is from there, too).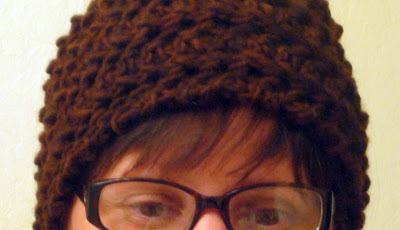 I've been wanting to show you this scarf I've been working on for a while now. It's challenging to photograph because it's so dark, so I decided to just model it for you. It's knit with Malabrigo kettle dyed pure merino wool. When I showed it to my sister she commented that it looks like something our grandmother would have made, so I'm calling the pattern "Grandma's Easiest Lace Scarf Ever."
To knit the scarf:
-Using size 15 needles, cast on 16 stitches.
-Row one: *K2, YO, slip one stitch purlwise, K1, pass slipped stitch over* Repeat to end of row.
That's it! Just do row one over and over until the scarf is the length you want. If you want to experiment with different types of yarn and needle size, just keep in mind the pattern is a four stitch repeat.
Enjoy your weekend! We are supposed to get rain, and I sure hope it happens.