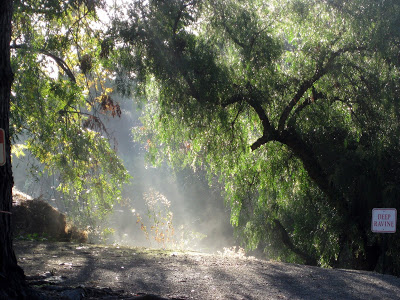 On Sunday it rained all day, bringing an unexpected benefit. When I stepped outside Monday morning I was greeted with this lovely scene-- the sun hitting the damp creek bank, causing swirly mist to rise. It was a nice way to start the week.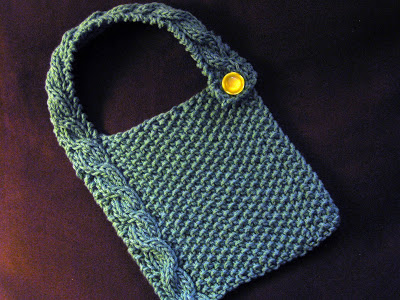 The wet weather made for a perfect afternoon of knitting. I finished this
Modern Cabled Baby Bib
(Ravelry pattern) knit in a cable and seed stitch combination. The yarn is
Jil Eaton Cotton Tail
that I found at my local yarn shop. It is a deeper shade of green than I was able to capture in the photo. I liked the yarn so much I want to knit a few more bibs in different colors.
On a different subject, it was interesting reading about your experiences with bats. So many of you have had bats in your backyard and in your home that it really surprised me. As the weather is growing colder here the bats are getting more and more active in the evening. I can enjoy their presence since they aren't roosting in my attic or patio umbrella!
I hope you are enjoying your week. It's hard to believe Thanksgiving is just around the corner.