Now that it's getting dark early I'm knitting more than usual, learning new knitting techniques and also going back to the old ones.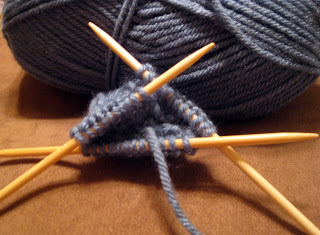 In order to knit the Mochimochi Land
bats
, I had to learn to knit in the round on double pointed needles. It's been a few years since I have attempted to do that because the last time was a major disaster. But I found that the sock classes I took earlier this year helped me master it (and I use the word 'master' very, very loosely) even though we used two circular needles for the socks. I haven't gotten very far with the bats because it took several attempts just to knit a few inches, but it feels great to have learned a skill that I didn't think I could do.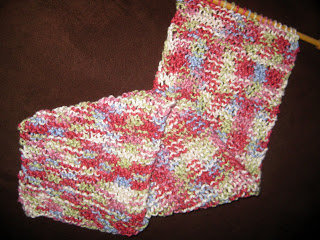 There is something about the colors of this cotton yarn that I love-- it reminds me of a 1950's kitchen. I was going to make dish towels, but decided to knit a scarf for a friend instead because I think she will look great in these colors, which are much prettier in real life than they are in the pic. For the first time in a very, very long time I'm knitting a plain old garter stitch scarf. It's nice not having to worry about making a mistake or wonder how it is going to turn out.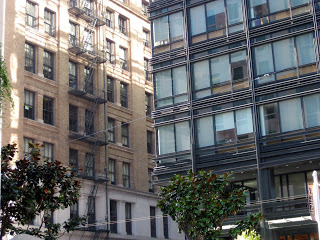 It was unusually warm in San Francisco last Sunday. We had a delicious lunch at
Yank Sing
. It was my first time trying dim sum and now I am a big fan. If you ever go to San Francisco, I must insist that you have lunch there. Dim sum is small individual portions of food that are extremely tasty, like pot stickers, dumplings, steamed buns, and spring rolls. Instead of ordering off a menu, you make selections off little carts that they wheel around. It's easy to go overboard.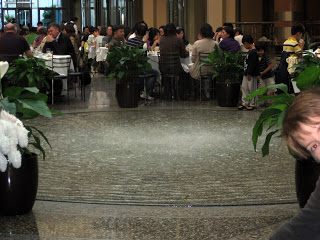 Inside the building is a fountain that makes it seem like it is raining inside with the water staying inside this big round "puddle" so no one gets wet. That little face peeking out on the right is my sister Hil.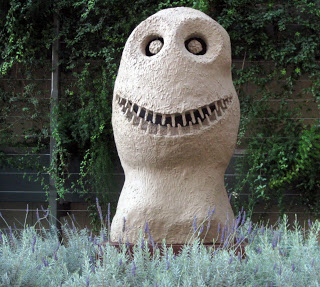 One of the wonderful things about San Francisco is that you never know what you are going to see. While walking down a busy street with office buildings and restaurants, we came across a tiny park with huge, whimsical monster sculptures.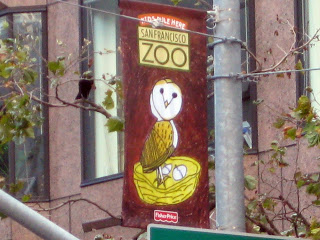 These signs for the San Francisco Zoo were everywhere, and I was intrigued by the owl because that's not something you traditionally go to a zoo to see. I checked out their website and discovered they are having a twilight tour next week that is all about owls. Yay! I'm hoping to go if the tour hasn't filled up.