Did you enjoy your weekend? We had cold temps and showers both days, as well as crazy thunder and lightening. The ground is thick with wet yellow leaves. You all know how much I love rain, so I won't go on and on about how I love having an excuse to stay home all weekend, reading and crafting and watching movies. (Oops :o)
It's amazing how fast weekend days fly by. I planned to start crafting first thing this morning, but time slipped by (probably due to my spontaneous decision to cut my own hair, which is a story for another day) and I didn't get started on these Christmas tree ornaments until 1pm. Before I knew it, it was time for dinner.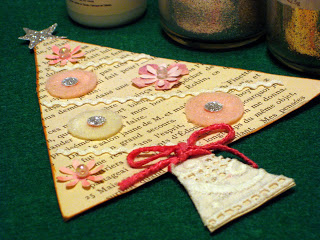 The ornaments are from the book Pretty Little Felts and made with pages from antique books, felt, glitter, and vintage lace. For this first one I followed the instructions in the book fairly closely to get the hang of it and learn some new techniques. I spent a good part of Saturday knitting a sock, with about three inches of toe to show for it, so today I really wanted to make something I could actually finish in an afternoon.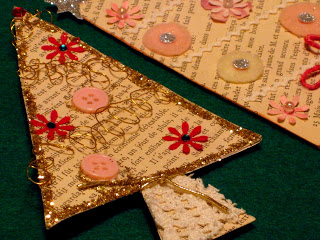 On the second one I did my own thing with gold wire, buttons, and gems. I plan to use mine to decorate gifts instead of as ornaments, but they'd be great as garlands, too. Normally I'm glitter-challenged, but I recently started using Martha Stewart's glitter with good results (i.e. the cats, television, and carpet aren't covered with it).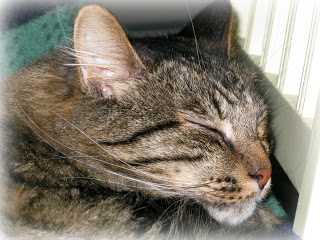 Now it's cuddle time. Charlie and I are on the couch with a wool blanket watching one of my favorite Christmas movies,
Elf
.
Have a good week. For those of us in the states, it's a short one. Hurray!