How was your Thanksgiving? We had a potluck-style family gathering at my place that was pretty wonderful. After a delicious dinner we watched Disney's
Beauty & the Beast
. I hadn't seen it since the original release in 1991. What a sweet movie.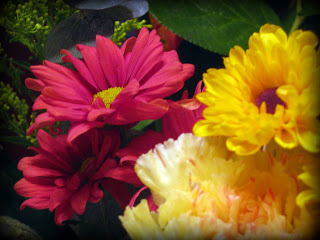 A small Thanksgiving joy that I rediscovered is fresh flowers on the table. I stopped bringing home bouquets several years ago when the cats came to live with me because I figured they'd eat them or knock them over, but it's been three days now and the flowers are still intact. If I make a new year resolution, it will be to have fresh flowers in my home more often.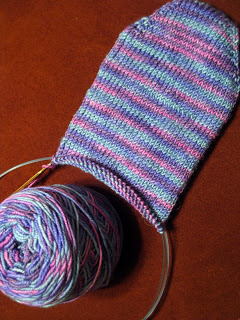 Last weekend I unexpectedly began knitting a sock. You might remember I took classes earlier this year, but never finished a whole pair. I didn't think I would ever attempt to knit them again, but out of the blue I found myself pulling this Fiesta Baby Boom sock yarn out of my stash along with my Addi needles. Must be the cold weather.
I have quite a bit of this Misti Alpaca Pima Silk in my closet. It occurred to me that the colors would look good in this woven stitch, so I started a scarf. The first year I learned to knit, I tried knitting this stitch countless times and was never successful, so it was particularly satisfying to accomplish these few inches.
Hope you enjoy your long Thanksgiving weekend. My sister Hil and I are headed for Santa Cruz to do a little holiday shopping. Normally I avoid Black Friday like the plague, but this year I have shopping fever.