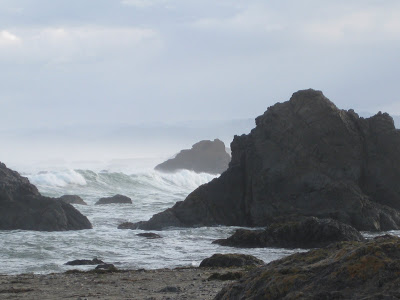 Early Saturday morning on my weekend getaway, my sister and I walked from our hotel to
Glass Beach
. I had been there several years ago and remembered it as completely unimpressive, so I was surprised at how stunning it actually is. The mist and rain added to the beauty of the rocky shoreline.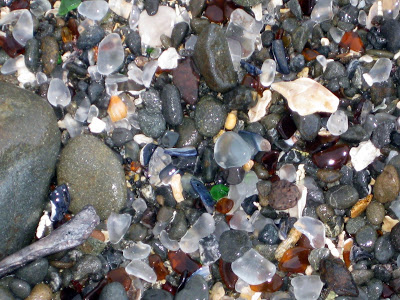 The beach is covered with sea glass, and we filled our pockets with it. I'm going to make a souvenir out of mine by putting it in a glass jar labeled with the name of the town and date we were there. (I'll post a picture when I find a suitable glass jar.)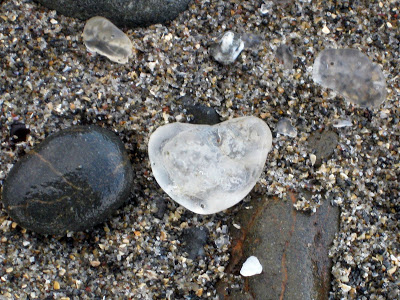 I left this heart where I found it so that the next person can enjoy discovering it.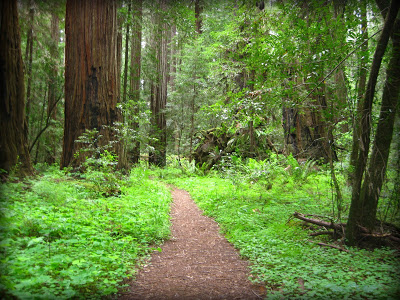 We went for a walk at
Hendy Woods
, which has the most beautiful grove of old growth redwoods that I have ever seen. Normally the serenity of the park is disrupted by the sound of gunfire from a nearby shooting range, but we didn't hear it this time. My brother-in-law, who is a Star Wars fan, says "it feels like the Return of the Jedi out there."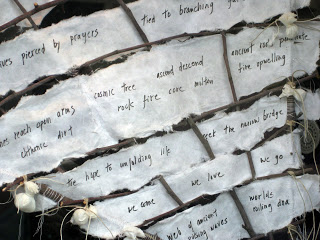 There are many boutiques and art galleries in the town of Ft. Bragg and Mendocino Village. This is a sculpture made with branches and pieces of handmade paper.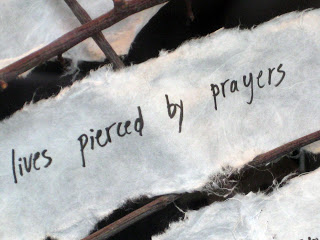 I love art that incorporates the use of words.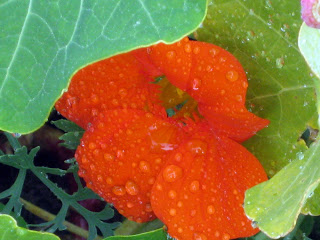 The nasturtiums and poppies flourish in the cool coastal climate. I couldn't resist a few close-ups.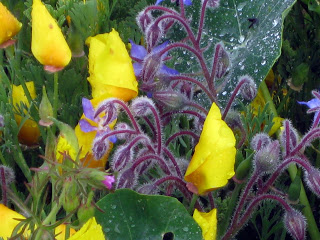 We browsed the shops and I bought yarn, slippers, and artisan paper for collages. (I didn't go in to the Understuff store, but isn't that a great sign?)
I didn't feel ready to leave on Sunday, but now that I'm home it's good to be back. Knowing that next weekend is a long one due to the Memorial Day holiday makes the work week more bearable ... I think I have vacation fever :o)