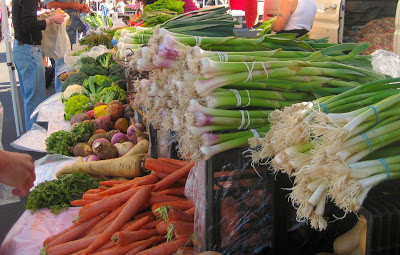 My favorite farmer's market began this week. It's held on Wednesday evenings and I pass by it on my way home from work. I love the routine of stopping there every week, but I have to admit I'm more interested in the booth with the chicken tikka masala than the fruit and veggies :o)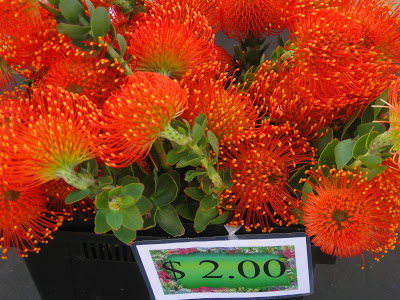 They sell gorgeous flowers, too, including orchids for five dollars. I'm not sure what kind of flowers these orange ones are, but everyone was oohing and ahhhing over them.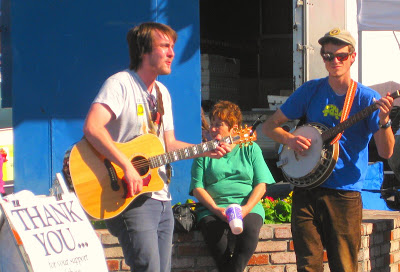 You'll never guess the song these two guys were performing at the farmer's market. I'll give you a hint:


If you liked it then you should have put a ring on it.
If you liked it then you shoulda put a ring on it.

That's right, "Single Ladies" by Beyonce. I bet that's the first time that song has been accompanied by a ukulele.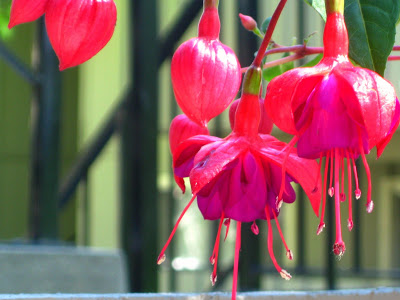 I'm slowly creating a container garden on my patio. Last weekend I planted fuchsias to attract hummingbirds so I can watch them from the living room window. The patio is pretty shady, so I think the fuchsias will do well.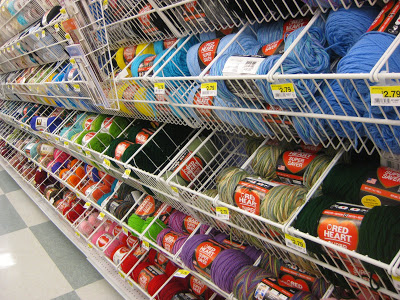 A brand new Jo-Ann Superstore opened down the street. It is huge! One half of the store is filled with scrapbook materials, beads, artist supplies, and row upon row of yarn. The other half of the store is all fabric and sewing supplies. I plan to shop there, but I feel a bit disloyal to the Michael's I've been going to for years. I hope the new Jo-Ann doesn't steal too much of their business.

Last night I finally finished the ripple scarf I've been working on for weeks. (I think I must be the slowest knitter in the world.) Now I'm itching for a new project, something a little more challenging. Hopefully this weekend I will get started on it.

I wish you a very happy Mother's Day.