Have you ever started out with one destination in mind and ended up some place completely different? That's what happened to me today. I took off this morning intending to drive to the beach and ended up going to a used bookstore and a bird festival.

At Recycle Bookstore I picked up a few books that have been on my mind. The last time I read To Kill a Mockingbird was 8th grade and I can barely remember it. The Little House books were among my favorites back in elementary school, and I'm curious to read them again.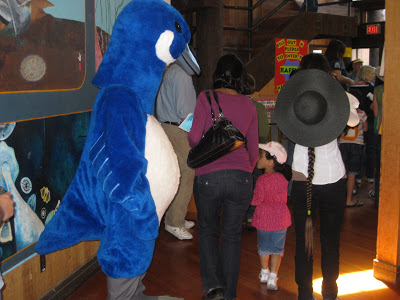 After the bookstore I went to a bird festival at a wildlife refuge and was greeted by giant bird. (Even more interesting is the length of that woman's braid. I didn't notice it until I came home and looked at the photo. Her hair is so long it must almost sweep the floor when it is loose.)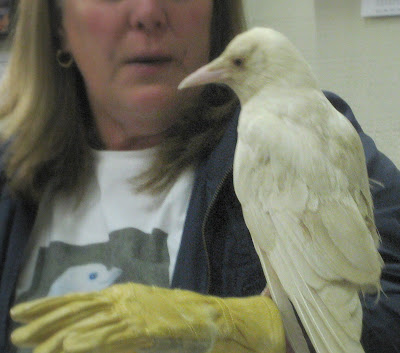 The festival offered a live animal show, so I got a ticket and a good seat in the front. When the woman from the wildlife rescue center said that she was going to show us a crow, I got annoyed. I can walk out my front door and see a crow pretty much any time of day. But it turns out this was a special crow-- it's an albino, and I've never seen anything like it. She was forgiven.

(I read up on how to improve my wildlife photography skills and learned that you should always make sure the animal's eyes are in focus. Unfortunately, my camera settings got screwed up and this was the best shot I could get before the bird was put back in his box. Grrrrr.)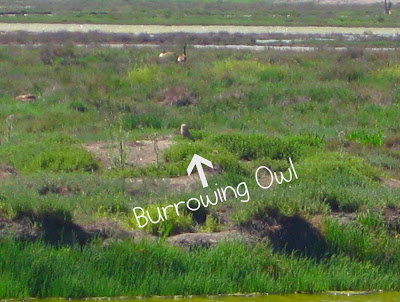 After the show I went on a short tour to learn about the different types of habitats at the refuge. The birding was great-- a white pelican glided by surprisingly close and a couple of snowy egret babies were hanging out on a wooden platform. Best of all was a burrowing owl. I was able to get a good look at him with my binoculars, but he was too far away for a decent shot with the camera. If you look closely, you can kinda see him.

I might not have made it to the beach, but I did have a fun day and I'm glad things turned out the way they did. Tomorrow morning I'm going to head for the coast again and see where I end up.