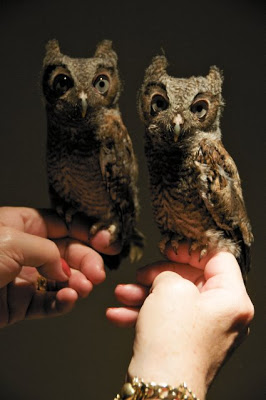 These are baby screech owls that are being raised in a wildlife rescue center. Aren't they the cutest? They look like wise little

muppets

.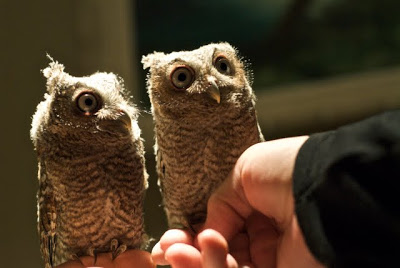 I have a *thing* for owls. It started over ten years ago, when I used to hike in the foothills most evenings, and in late summer would see huge owls-- I think they were Great Horned-- perched on the tips of the tallest trees. For me, seeing those birds was like winning the lottery jackpot. I was rich with owls.


Then, a few years ago, I met a birding friend as obsessed with owls as I am. At night we would sneak in to the woods to go

owling

. She would play a tape recording of a Western Screech Owl, and we'd stand perfectly still in the dark, flashlights ready, waiting for a response. When we heard a hoot, we'd shine our lights in that direction, certain we were about to see an owl. But the only thing we ever saw were wood rats and a bobcat that scared the

bejeezus

out of me.
The next spring, I began seeing barn owls in flight in my neighborhood at night. It was funny the way it started-- one night, I happened to glance up and see one gliding over a rooftop and out of sight. It happened about a dozen more times over the next few months. I'll never forget it, because that was the year I learned that you don't always have to travel very far from home to find what you're searching for-- sometimes all you have to do is step outside and look up at the sky.


Here are some owl-themed craft projects you might enjoy.

Robyn at
Daisy Quilts
is offering this cute Hoot the Owl tutorial for free until June 30

th

, and then it will be available in her

Etsy

shop.



This owl dishcloth, designed by Janelle

Schlossman

, is available for free at
Knitting on the Net
.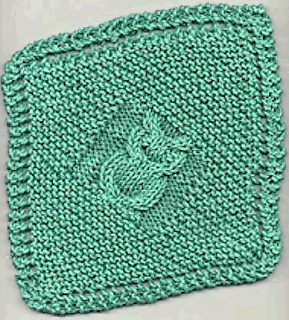 Stacy


xxoo