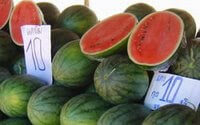 Last week I received a Watermelon Award from Linda at
Natural Suburbia
. Thank you Linda, I appreciate it! I tried following the trail of links to see where the award originated from and find out more about it, but reached a dead end after about ten blogs. (Although someone did have it on her blog as a gadget titled, "My melons are a ten." I like that!)
In accepting the award, I have to tell you six things that make me happy.
1) I have a job! I am so grateful to be employed during this recession. I've been laid off a few times in the past, and it's not fun (at least not after the first time when it felt like I was given permission to have an extended vacation). And I actually like my job, which is a refreshing change.
2) Obama is president! That makes me extremely happy. '

Nuff

said.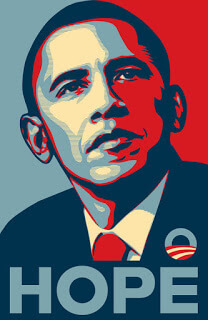 3) The supportive women in my life who inspire and encourage me. You know who you are!
4) My spiritual side. I don't talk about it much because I am a private person, but my spirituality nurtures and sustains me.
5) Crafts! I am so in love with knitting, and I'm in the process of falling hard for painting and collage, too. (I'm a bit of tramp, aren't I?) Crafting has changed my life in so many ways.

6) My kittens, of course. Charlie and Apollo are the most loving,

snuggly

cats I know. I can't imagine my life without them.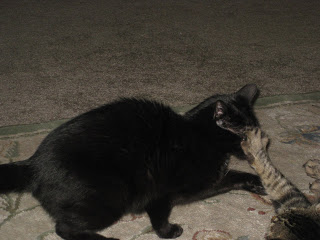 What makes you happy?

My friend Rachel at
Not-So-Plain Jane
is having a giveaway. Just leave her a comment by June 30

th

, and you could win this adorable purse. Good luck!