Yesterday was my sister's bridal shower. I was SO stressed in the days leading up to it, feeling certain that something would go dreadfully wrong. I'm happy to report that my anxieties were unfounded (as usual) and the shower was lots of fun.
We held it in the rec room at my apartment complex. This is the spread-- fruit platter, veggies & dip, cheese & crackers, frosted cookies and Safeway cake.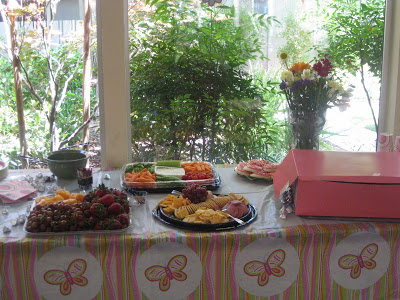 The cake was chocolate with white buttercream filling and frosting. It was SOOOO delicious. I had two pieces and then stashed what was leftover in my fridge. Yum, it's going to make a nice mid-morning snack today.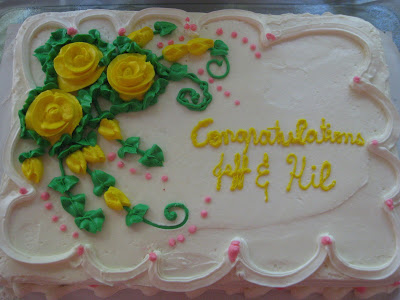 We had a good time playing "how well do you know the bride" and bridal shower bingo. The prizes were a sachet of tea in the triangle-shaped box with the little ceramic how-de-do thing that you put your tea bag on. (No idea what those are called.)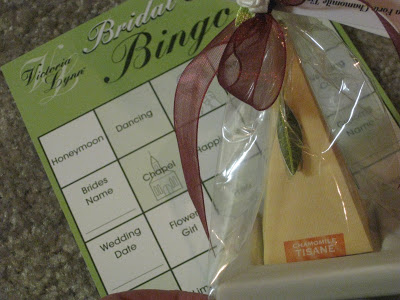 The shower had a kitchen theme, so most of the guests brought gifts for cooking or serving food. Our big sister Feltypants went a different route and got her a Hooter's cookbook and this candy bra. It was hysterical. (That's my little sis, the bride, in the picture.)




For favors, we gave away these little bags with measuring spoons or Susan G. Koman chip clips, along with a small bundle of fresh herbs and a recipe for using them to make butter or salad dressing.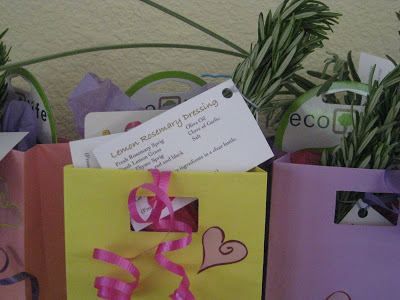 Feltypants made these very cool Bridezilla cookbooks to give out with the favors. Inside are several excellent recipes and food/love-related poetry. It was such a nice touch. (The Bridezilla thing is explained in this
post
from a few months ago.)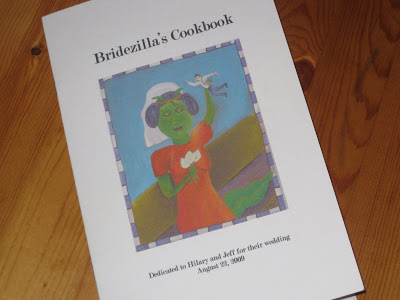 When the shower was over, my body was so sore I felt like I'd been in a wreck. A long, hot bubble bath fixed me right up. It was fun, but I'm glad it's over because it was a lot of work and so nerve-wracking.
I won a giveaway! Yesterday I found out I'm the lucky winner of this fabric wallet made by Sandi at
An Artistic Bent
. Yay! It's adorable.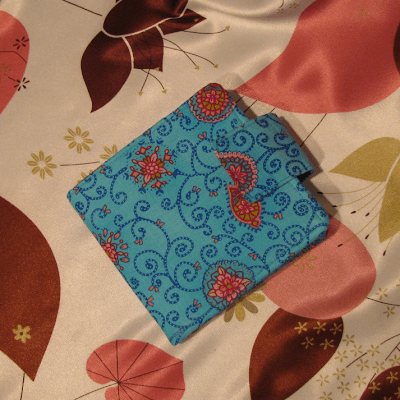 Sandi has many cute aprons and wallets on her site if you'd like to check it out.

And then I got another email yesterday, this time from my friend Dogwood, mysteriously stating I'd won her Facebook giveaway. It was a bit confusing because I couldn't remember signing up for anything like that, and I didn't know people had giveaways on Facebook.
But I went to her wall and discovered an announcement that I'd won these see-thru "paint cans." It was funny because I'd asked Dogwood to pick these up for me-- she's given me gifts of buttons and ribbons in these types of canisters and I love them but can't find them in the craft stores in my area. So I guess not only did she buy them for me, she also held a secret giveaway in which I was the only name entered! Hmmm, that might be my favorite kind of giveaway ;-)