The Fabric Shopper
is giving away thirty fat quarters! You have until Sunday, June 7th to leave a comment. (Thanks, sis, for sending me the link.)
We got a little rain today, which rarely happens in June. Everything looks a bit more green and lush.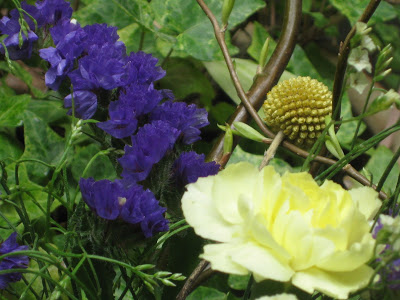 Around here you have to enjoy the green while you can because in the summer the surrounding hills turn crispy brown. And then they start to burn.


Today's romping lawn-bird is a phoebe.


I accidentally got a picture of it hovering over the lawn. Pretty cool.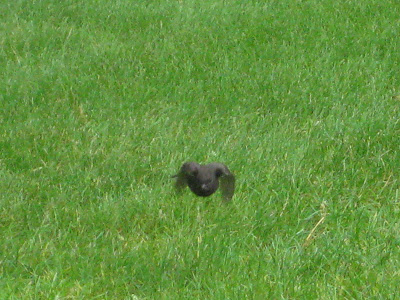 Poor Charlie, he wants to chase a bird so badly, but he's trapped in apartment jail. Before I got a cat I used to get furious at people who let their cats roam free and kill birds. Then when Charlie came in to my life, I felt so bad for him stuck inside all day that I caught myself thinking, well, maybe it would be okay if he went out and just got one bird. Yikes!! I'm a bird lover! I started walking him on a leash at night instead, which is a good compromise, I think. At least it is for me.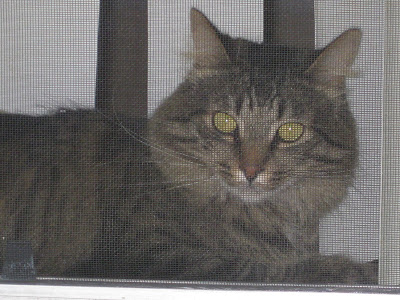 And here is a picture of Apollo that I took this morning, in case he reads this and feels left out. I'd love to write about him more, but he doesn't like to hold still for pictures. Apollo is a shy, nervous guy who spends most of his time sleeping in the closet. I do what I can to make him feel safe and loved, but he's very much a skittish loner.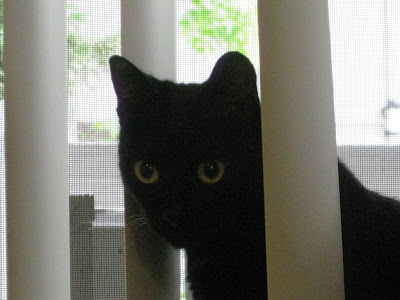 * * *

My latest 2x2 inch painting/collage ... I've completed five of them, and they are all lined up on the fence on my patio like little tiles.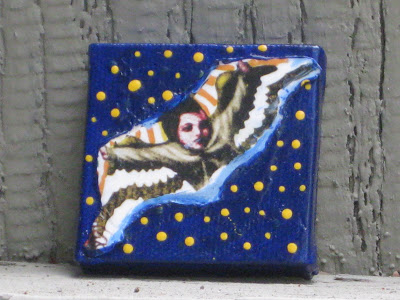 Hope you have a good weekend. I've been under the weather all week, so I'm going to be taking it easy this weekend. At least I'm going to try. I have such a hard time slowing down these days-- I'm constantly running errands and cleaning and doing other stuff that seems so very important, but isn't. Andrea at Superhero Journal has a great post about this very subject if you'd like to check it out.