Just a quick post to let you know about a couple of giveaways going on right now ...


Andrea at
Superhero Journals
is giving away a gorgeous handbag. You have until Friday, June 26th to enter.


Jen at
Miss Punkie Pie
is giving away a quilt pattern in celebration of being 100 days smoke free. She will be drawing a winner on Monday, June 29. Congrats, Jen!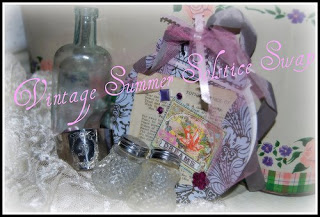 I've been busy gathering items for the two swaps I'm participating in, A Country Dream's Cosy Crochet and Knitting Swap and The Chateau of Remnants' Vintage Summer Solstice Swap. It's been fun getting to know my swap partners and planning the packages I intend to send to them, but a bit nerve-wracking, too, because I really want them to like what I send and not be disappointed. I was thinking yesterday, while browsing in a thrift store, that one of the wonderful things about swaps is that so many of us love to give to others but aren't as comfortable receiving gifts, and these swaps give us an opportunity for both. I'm hoping that after I've done a couple of them I'll start feeling more comfortable and have a clearer sense of the kinds of things to send.
Stacy
xxoo