A few flower shots taken this afternoon in my neighborhood garden ...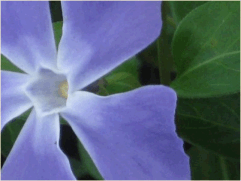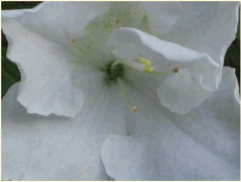 My sister Feltypants, a
talented artist
, painted this picture as an engagement present for our little sister, who is getting married this summer. It's titled "Bridezilla."
I think the Princess Leia hair-do is a nod to the groom-to-be's love of all things Star Wars.
It's so great.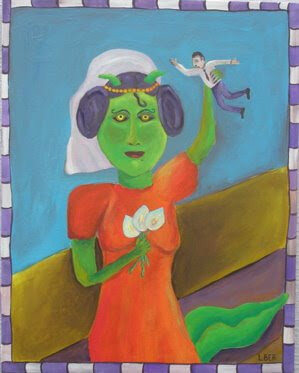 By the way, little sis isn't green or a Bridezilla. She's quite cute and fairly laid back about the wedding plans. Fairly. Feltypants paints her a monster picture every year for her birthday.
I'm planning the bridal shower. It's still several months away, but I'm starting to think about a theme and favors. Have you ever seen the favors on
Beau-coup
? Oooh, I want to buy them all! Just for me!
One idea we're kicking around is a kitchen theme where everyone brings their favorite recipe and a cooking-related gift. Guests would receive gift bags with the
gourmet cupcake baking mixes
,
heart whisks
, and
heart-shaped measuring spoons
shown in the pictures below.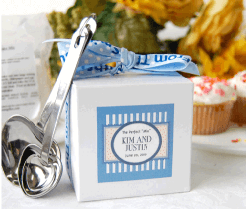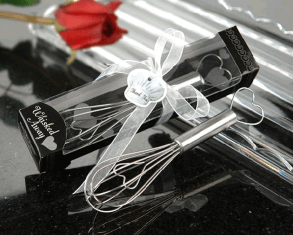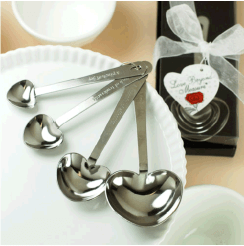 It seems a little dull though, especially after reading about the pajama shower RachelJane wrote about over on Not-So-Plain Jane, here and here. I don't think little sis will go for an evening of bowling and dining in our pj's, but I feel like I need to at least try to come up with something a little more exciting than recipes and measuring spoons, cute as that is.
I'm going to keep thinking about it and poking around the Internets for ideas. Any suggestions? I'd love to hear from you.