I made this envelope purse so I could practice decorating it with my new needle felting skills. I knit it with Lion Brand Wool and and then felted it in the bathroom sink. The strap is a felted I-cord.

The pitcher was made by Teresa Wik of
T Pots Pottery
. I was given several pieces of her pottery as gifts, and I adore her work.
The swirlies are needle felted sock yarn. The button is needle felted, too.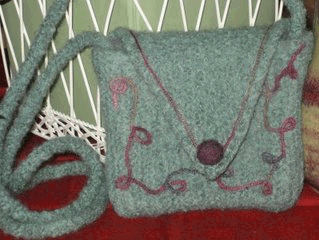 More swirly-whirlies on the back ...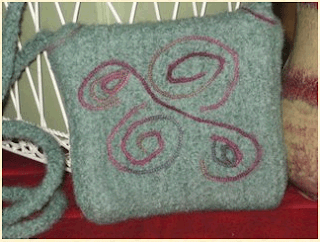 I didn't write down the pattern for the purse, but here is what I remember-- I used size US 11 needles and knit it in one long strip, and then created the flap by doing a K2TOG at the beginning and end of each row. I seamed up the sides and attached the strap inside along the seams after felting.
The Lion Brand Wool felts up nice and thick.