That song has been playing in my head the last couple days. You know the one? "Raindrops on roses and whispers on kittens, something and something and soft woolen mittens ..." While writing the words down in my journal, I realized it didn't sound quite right. Oh, kittens have whiskers, not whispers.


But I have whispers on my mind. (I may have whiskers on my mind, too. I'm not sure.)
It started with the book
Taking Flight: Inspiration and Techniques to Give Your Creative Spirit Wings
by Kelly Rae Roberts. It arrived in the mail a few days ago from Amazon, and I haven't been able to put it down. I carry it with me wherever I go in case I get a few extra minutes to look at it.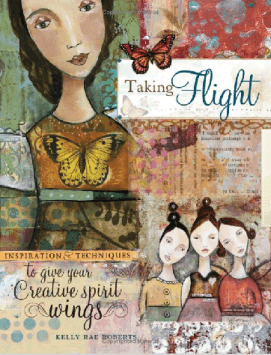 I bought it because I liked the book's reviews and the little bit of content I read online. When it arrived, I opened it up and what did I see? Artwork and techniques from
DJ Pettitt
, one of my favorite artists! I didn't even know she would be in there.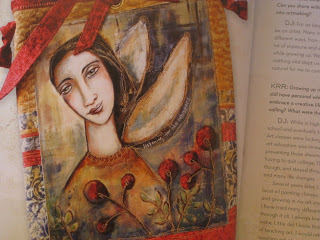 There are interviews and techniques from a handful of other artists, too.

The first chapter is about whispers. The author writes about listening for the whispers that nudge and encourage you. She suggests starting a journal to capture "whisper evidence." She writes:
The whispers of our lives want us to take notice, to nurture their message and to discover our own potential. Whether they're quietly nudging us from time to time with long periods of busy silence in between, or annoying us with their persistence, their presence is important and meaningful. We must listen.



This idea speaks to me. The concept isn't a new one—I've read my share of listen-to-the-small-voice-within books. But for some reason, at this point in my life, the idea of listening for whispers lifts my spirit and gets my creative juices flowing.

So I started a new journal. One of the first whispers to make its way to the page was "quilting." I love all things quilted, especially art quilts. In fact, it was this picture of an art quilt in Belle Armoire magazine (Jul/Aug 2008, art by Ruth Rae) that led me to try new crafts other than knitting.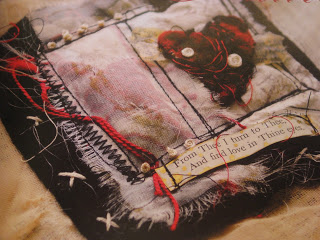 I saw that picture and wanted so badly to make an art quilt. So the next day I made one of my own, which I will show you if you promise not to laugh. Keep in mind I don't know how to sew.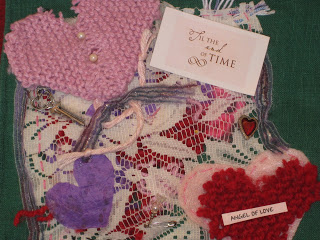 It's a bit of a sad sack, but creating it brought me SO much joy.

Every time I see a cute quilted bag, an art quilt, or a fabric book, I feel it in my heart. And then comes the thought, "I wish I could do that."

My whispers tell me I can. I don't know when, and I don't know how, but I am going to buy a sewing machine and learn to quilt.

In the meantime, I've been feeding my hunger for fabric. I bought these folded quarters at Joann's.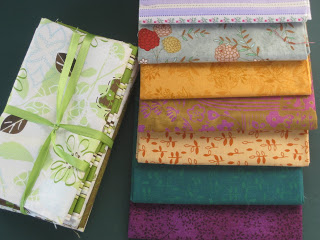 And then used fusible interfacing to make these little gift card envelopes to tuck inside tiny felted bags that I decorate with needle felting.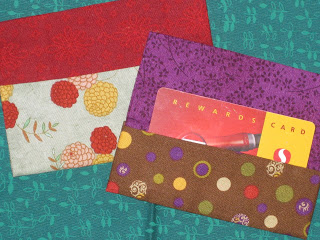 I'm learning to make small fabric collages using DJ's techniques outlined in the Taking Flight book. This is my first one.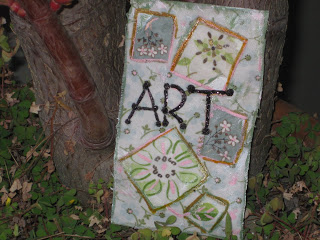 What are your whispers saying to you?