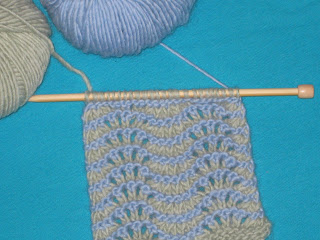 I'm knitting my umpteenth feather & fa n scarf. The pattern is one of my favorites. It's comfortable and familiar, so I tend to knit it again and again. I first read about the feather & fan pattern in the book
Knitting Heaven & Earth
by Susan Gordon Lydon. There was no photo of it in the book, but I think I fell in love with it anyway, sight unseen. She writes:
"Who knows why one pattern feels so pleasurable and comfortable to knit while another feels frustrating and irritating? This for me is one of the enduring mysteries of lace knitting. But the rhythm and feel of the feather and fan appealed to me right from the start. I loved the rhythm of its

yarnovers

and decreases, the mathematical arabesque of adding and subtracting stitches, the alternating columns and arches that appeared with each repetition of the pattern."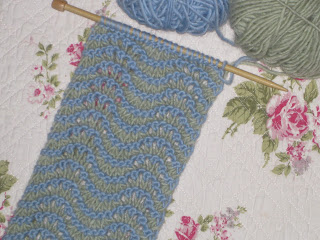 I'm using two colors with this pattern for the first time. While I'm enjoying having to be a bit more mindful of my knitting so as not to use green when I'm supposed to use blue (which I've done several times), I'm not quite sure the colors go well together. In fact, I'm pretty sure they don't. The blue looks electric next to the muted green. But that's okay, because those are the only two colors I have in that particular type of yarn and I'm not buying more. I've reached the point where I have yarn bursting from so many drawers and cabinets that I just can't bring home any more until I use a large portion of what I have. (I didn't know one could reach this point, but I have definitely reached it.)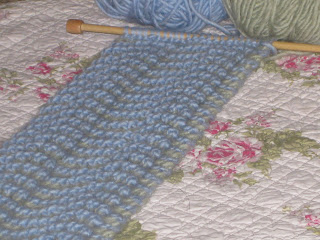 So I'm knitting this old fashion-looking, oddball scarf, and I'm loving it. I feel like I abandoned my knitting in the last month or so with all of the playing around with needle felting and collage, and it's good coming back to it.
The yarn is super-duper soft 100% organic merino wool. It glides on the needle and glides off the needle and it stays where you tell it to stay. Knitting with merino is kind of a big deal for me; when I started knitting, I couldn't touch wool without feeling all hot and sweaty (not in a good way). I stuck with cotton and bamboo yarn for the longest time, even though I read repeatedly that both of those fibers were far inferior to knitting with wool. But something has changed recently, and now I can knit with some types of wool without too much discomfort, and I'm beginning to see what all the fuss is about. It's nice.

A couple days ago, I came across this little treasure of a book at a Japanese book store with a surprisingly extensive collection of English knitting books. It's Vintage Hearts & Flowers by Kate Haxell, and the patterns involve different types of crafts, like sewing, knitting, beading, and embossing.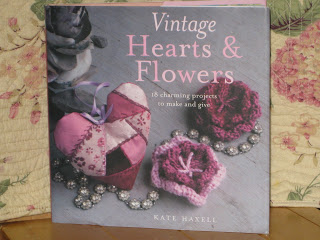 I like this heart, but I'm a little intimidated by the bobbles. It might be time to try though.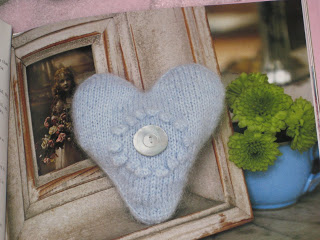 This one is cute, too: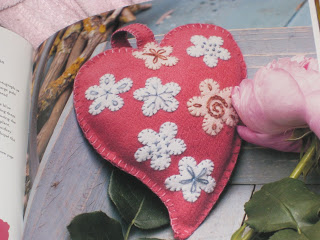 If you have a few minutes to spare, take a listen to this talk by Elizabeth Gilbert , author of Eat, Pray, Love, about a different kind of creative genius. It's really, really good.