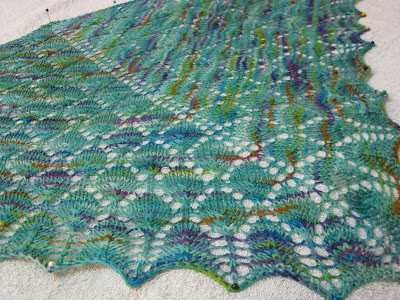 I finished my
Forest Canopy Shawl
last night and it's blocking on my futon right now. Hurray!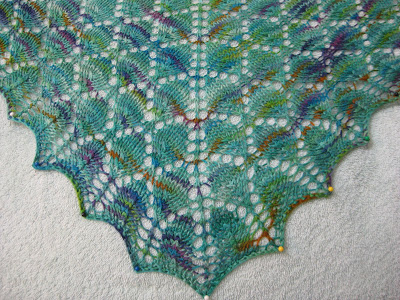 It's smaller than I thought it would be and I had a little trouble with the bind-off, but other than that things went smoothly. I figured it would take me at least two or three months to complete this project, so it was exciting to finish it in four weeks. A big thank you to Kate at
Lazy Kate Creates
for initiating the Adventures in Lace knit-along. It motivated me to learn to knit lace and I'm completely smitten.
I feel like my blog has been pretty low energy lately and I know I haven't been posting as much as I used to. I've been debating whether to talk about why that is and decided to just be honest about it. It's tempting to only write about happy sunshiney things, but doesn't feel very real. Since mid-January I've been consumed with problems with a disruptive neighbor and it's been hellish. Things came to a head last weekend when the police got involved, and the problem neighbor will be moving out next week. I'm looking forward to getting my life back and feeling happy again instead of beaten and broken down. The stress of the situation had begun to permeate every area of my life. I learned some painful lessons, especially about not allowing myself to be bullied.
On that cheerful note, I'm going to turn off the computer and turn my attention to American Idol. Don't forget to leave a comment to enter my giveaway-- I'll pick a winner Thursday morning.