Okay, I admit up front, I don't know how to paint. I've never taken a class or made a serious attempt to learn how to do it correctly from a book or any other resource. But I love how it feels to paint, to dip the brush in a mixture of gooey colors and sweep it across the canvas. I love being totally immersed in the process of painting; it is so soothing and satisfying.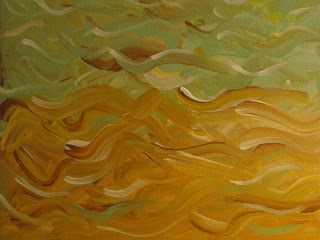 Last weekend I was feeling that melancholy that comes when the days get shorter and colder. I got out my paint and a blank canvas and let myself just play without worrying about making something pretty. It made me so happy.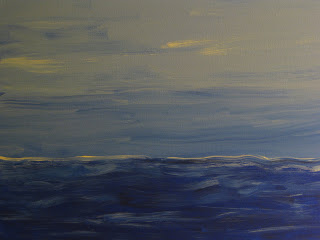 I want to decorate my bedroom in blue and white with a beachy theme, but because I'm on a tight budget I have to do it little by little. I painted this picture to hang over my dresser and feel pretty good about how it turned out. It would be nice if I knew how to draw and could add a sailboat or a bird, but I'm afraid I might wreck it.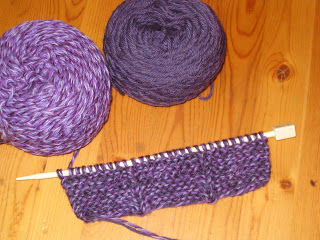 With the holidays just around the corner, I'm starting to think about handmade gifts. This is an attempt to knit a slipper. The pattern is so simple, but I've never had good results. I'm hoping my skills have improved and it will work this time. I'll keep you posted.


Well, there's a little black cat peeking over the computer screen, his eyes begging me to play with him, so I better get going. Hope you're having a good week.