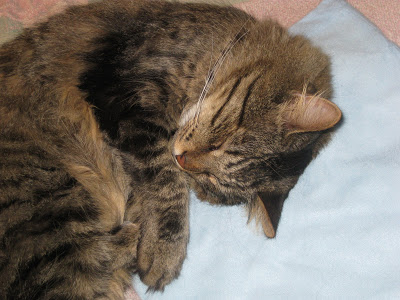 It was cold and drizzly today, and I spent the day snuggled inside, working from home. Charlie napped on a heating pad with Apollo curled up beside him.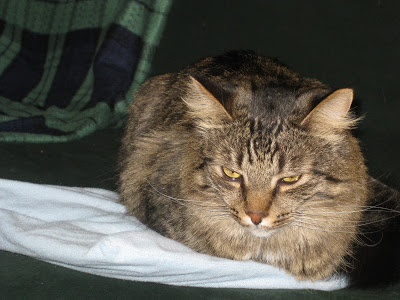 Now that the day is done, I'm going to knit and watch DVDs. I've been watching the Buffy the Vampire Slayer series, which I never watched while it was on television. Today on the way to the library to return some Buffy DVDs and check out new ones, I noticed that the license plate of the car in front of me read, "I ♥ Buffy." Isn't that a funny coincidence?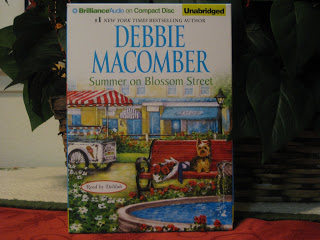 Last night I started listening to the Summer on Blossom Street audio book, the latest Blossom Street book from Debbie Macomber. The series is about a yarn shop and the characters that visit it. If you like knitting and are in the mood for light fiction, you might enjoy the series. This is the first time I've listened on audio rather than reading the book, and it was enjoyable to relax in bed last night, knitting and listening.


I started knitting fingerless gloves in Cash Island yarn from Noro, a blend of wool and cashmere. If everything goes well I'll post the pattern next week.


I'm excited to report that my
Mesh Bamboo Scarf
knitting pattern was featured on
FaveCrafts
and
TipNut
. Both of these websites have lots of free patterns for knit scarves that you can see by clicking on the links, as well as craft tutorials, recipes, and more.


Have a wonderful weekend!