I wish I could show you my current knitting projects, but they're holiday gifts and I want them to be a surprise. So instead, here is some of the knitting I completed before I started blogging earlier this year.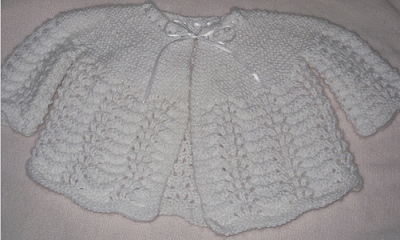 This baby sweater is the first and only sweater I've ever knit. It's done in feather and fan with a garter stitch yoke and was ridiculously easy to knit. I got the pattern from a wonderful book called Knitting for Fun & Profit, but sadly I left the book on the trunk of my car one afternoon and then drove off, never to see it again.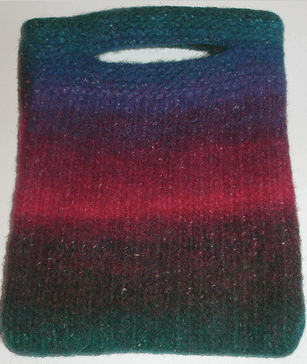 This small bag is one of my first felting projects. I wasn't at all interested in felting until my older sister made this bag-- the moment I saw it I wanted to make one of my own. The yarn is called Boku and the pattern was free with the purchase of the yarn from a local yarn shop.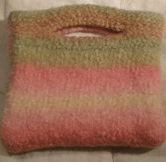 This is the same bag using Paton's SWS yarn.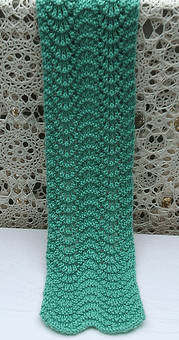 This is the first of many feather and fan scarves. I tried and failed to knit this scarf several times before I finally got it right. Soon after I started knitting I attempted to sell my stuff at craft fairs, and this is one of the first things that ever sold. A little eight year-old girl bought it after quizzing me about how, exactly, it was made.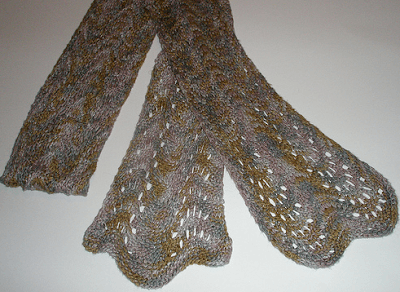 This is my favorite scarf. It's knit in bamboo and is SO soft. I love the colors, too.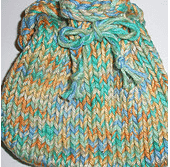 Last but not least, the mini-drawstring bag. I learned to knit these early on using tiny circular needles and couldn't stop. I thought for sure they would be big seller filled with dried lavender at the local flea market, but they were a flop. My mini-drawstring bag phase was about four years ago, and I knit so many that I still can't bear to make another one. Or can I? Hmmm, the more I look at, the cuter it gets ...
All of these projects and more are on my project page in Ravelry and my user name is goldenbird. Please stop by and say hello if you're in the neighborhood :o)