I wasn't able to knit at all last week due to an intense work schedule filled with meetings, lunches, a scavenger hunt, and a cocktail party. By Friday night I was desperately in need of a quiet day all to myself in which I wasn't expected to make small talk, wear high heels and make-up, or sit in a room all day listening to strategic goals.
I needed my knitting.
So I scheduled my very own private knitting retreat in order to recover from the busy week and get reacquainted with my needles. It went something like this:
9am: Start the day with a donut with chocolate icing and multicolored sprinkles.
9:15: Fire up the laptop and check out the discussions in my Ravelry group.
9:25: Search Ravelry patterns for a blanket knit with Sprout organic cotton.
9:35: Tell self several times to turn off the computer and start knitting.
9:45: Gape at birds at feeder on patio. Inform the cats they are finches (the birds at the feeder, not the cats).
10:15: Start knitting a
Modern Cabled Baby Bib
in purple cotton while watching the movie
Love Actually
.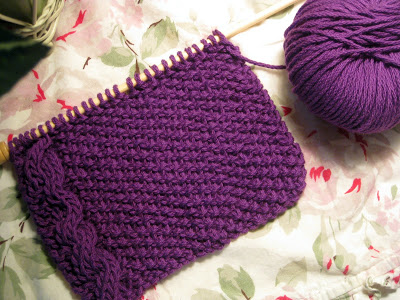 10:30: Decide that Colin Firth movies are an important part of any knitting retreat.
11:00: Eat second donut with chocolate icing and multicolored sprinkles.
11:15: Set aside baby bib and finish up a neck cozy.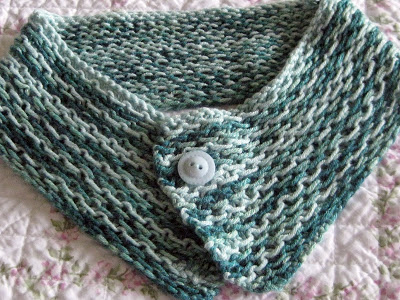 12:30: Have lunch at the taqueria down the street while reveling in the bliss of a whole day dedicated to knitting, knitting-related activities, and donuts.
1:00: Go to LYS and purchase five skeins of Sprout for blanket pattern found earlier on Ravelry.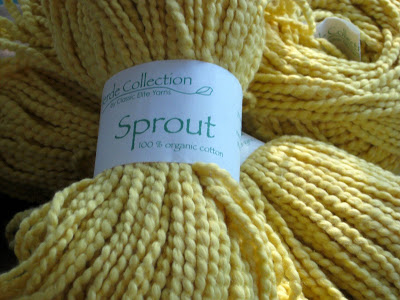 2:00: Return home and resume knitting baby bib.
2:55: Eat half of a maple bar.
3:00: Blog about knitting.
3:45: Switch over to knitting the neck cozy.
4:00: Eat other half of maple bar.
4:20: Force self to put knitting down and go outside for a walk.
5:00: Pick up Thai food for dinner on the way home from walk.
6:00 to 10:00: Eat dinner, watch multiple reruns of Sex in the City episodes, continue to knit while balancing two cats on lap.
11:00: Eat last donut in box and go to bed.
So there you have it. Knitting. Shopping for yarn. Ravelry. Donuts. Colin Firth. More donuts.
Why can't every day be a knitting retreat day?